Compare Otter vs Fireflies: Features, Pricing & Alternative
In most of the meetings, there are two types of people. One gets busy taking notes of all the information for later, and the other one tries to pay attention to the speaker. But often, we need to have the accessibility to do both, and that's where AI nota-taking tools come in handy. Among these, Otter.ai and Fireflies.ai are two popular names.
Do they satisfy my needs well? Which one offers the best value? Is there a better alternative? Your mind is flooded with questions when trying to pick the best one.
So today, we put Otter and Fireflies side by side and compare their features, use cases, and pricing. By the end of the article, you'll have a clear idea of which of the two software best suits your needs and a new option to choose from.
What is Otter.ai?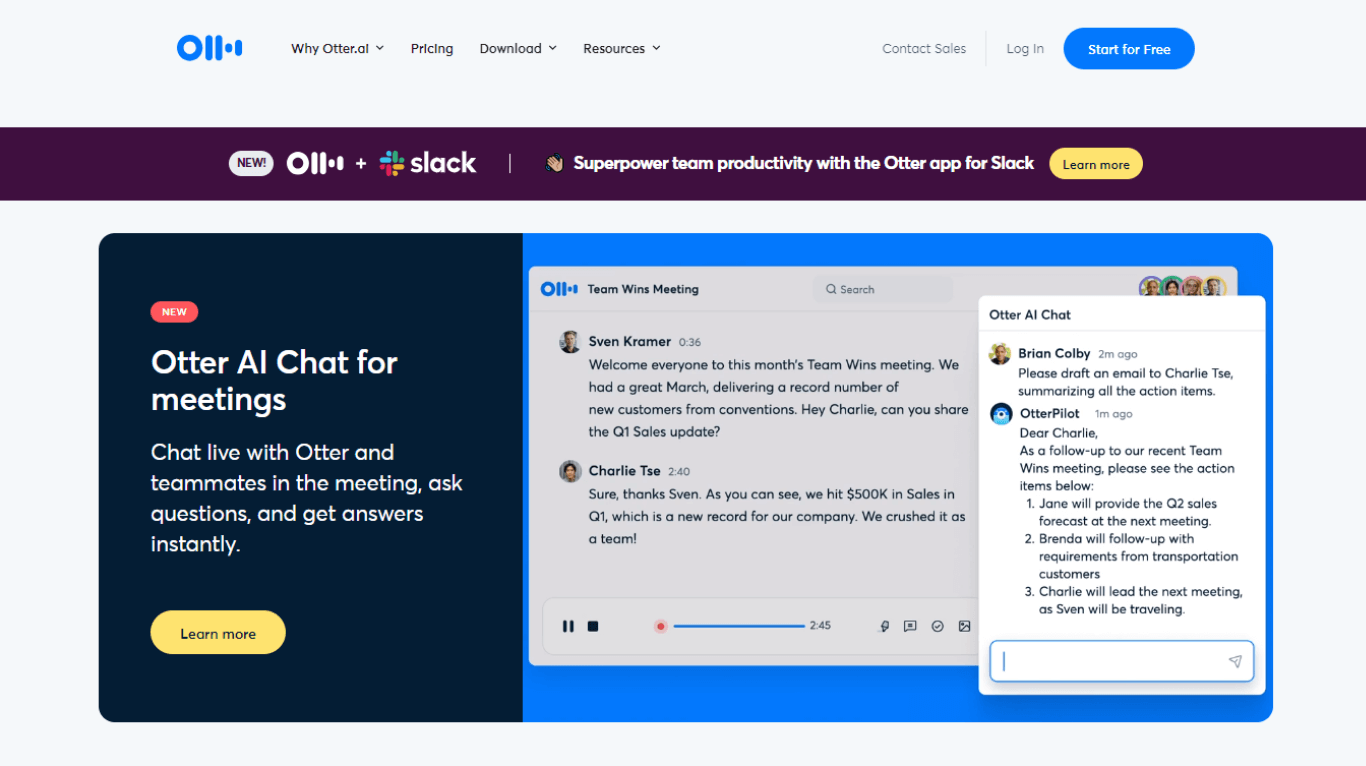 Otter.ai is a popular AI-powered transcription tool that automatically converts spoken words into text. It can be used for online meetings, podcasts, and interviews. This tool picks the voice in an audio feed, processes it through the AI, and starts transcribing it in readable and editable format. 
Otter transcription accuracy is between 85-95%, which is pretty good — but you have to do a bit of cleaning and editing to make it perfect.
Though this Fireflies.ai alternative is overall good, I think it is a bit pricey — especially for those who attend meetings occasionally. 
Read the comprehensive Otter.ai review
What is Fireflies.ai?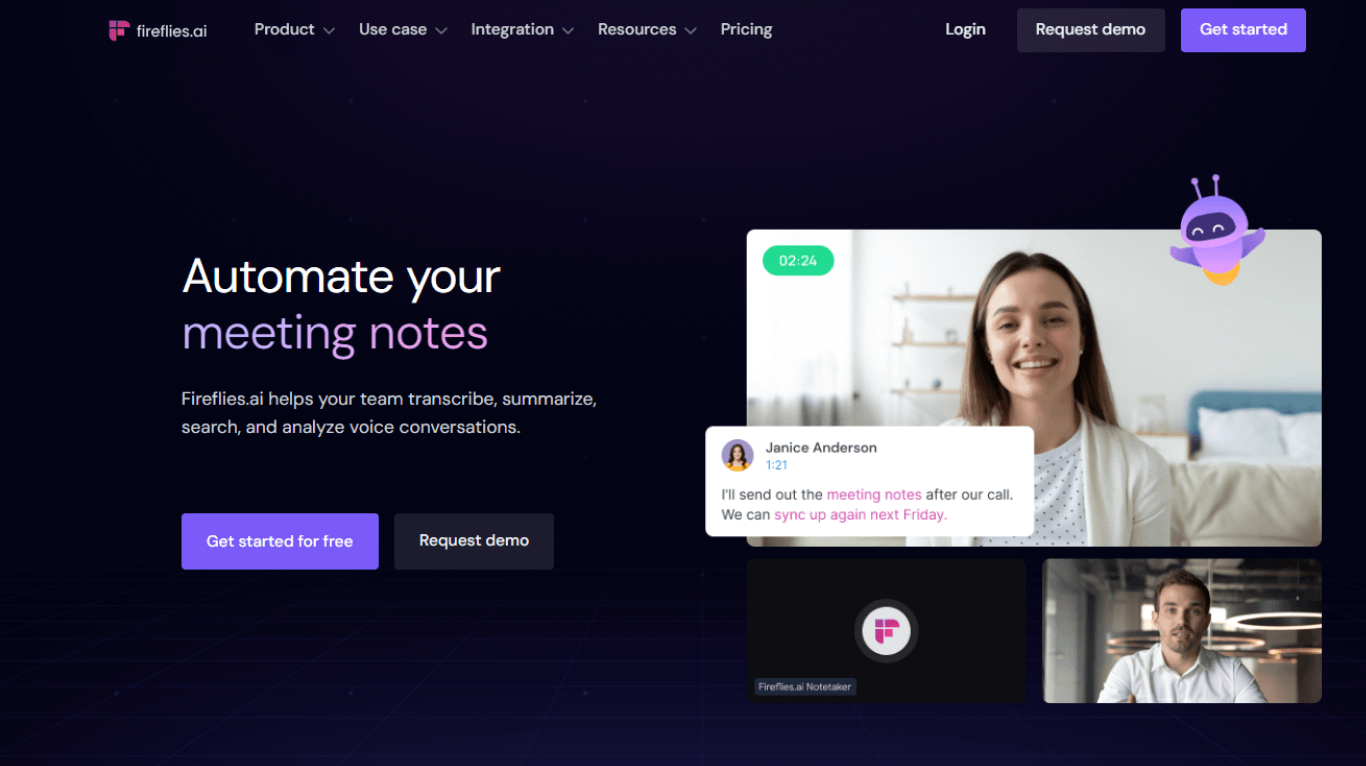 Fireflies is a virtual assistant for meetings. Like Otter, Fireflies can record your meetings and generate transcriptions automatically. 
However, Fireflies.ai notetaker focuses more on meetings, rather than transcription. Besides sending an assistant to your call to automate a few tasks, it offers other features like meeting notes collaboration, search, and conversation intelligence.
One feature that I personally like about Fireflies is Ask Fred or Smart Search. It's like the ChatGPT of your meetings that scour the meeting data to provide you with an accurate answer. However, one drawback is that the most helpful feature – Smart Search — is not available in the free plan. 
Otter.ai vs. Fireflies.ai: At a Glance 
I'll walk through some of the key differences between Fireflies.ai and Otter.ai in depth in the coming section. 
But before that, allow me to quickly break down the similarities and differences and see how they stack up against each other. 
What's common between Otter vs. Fireflies?
Meeting recording and transcription. Both platforms allow you to record online meetings (Zoom, Google Meet, and MS Teams) and generate live transcription which aids in meeting notes. 

Sharing. Otter and Fireflies make it easy for you to share meeting recordings and notes with internal and external users.

Search. Both platforms make it easy to jump to specific sections of a meeting or conversation by searching for specific keywords.
What's the difference between Otter and Fireflies?
While both tools offer recording and transcription and have several similarities, the product positioning sets Otter and Fireflies apart. 
Otter.ai is a transcription tool while Fireflies.ai is an AI meeting assistant. 
Transcription software aims to save users from manual labor using speech-to-text technology (Though it seems Otter.ai is adding more meeting-related features). 

Meeting assistant aims to help you increase productivity throughout a meeting. The common features include summary, team collaboration, and conversation analysis.
Feature
Fireflies.ai
Otter.ai
Best For
Small and medium-sized teams looking for more than a transcription tool.
Individuals, professionals, and small teams who want an affordable meeting transcription service.
Price
Free plan
Pro plan: $18 per month
Business plan: $29 per month
Custom enterprise plan
Free plan
Pro plan: $16.99 per month
Business plan: $40 per month
Custom enterprise plan
Conferencing Platforms
Zoom, Microsoft Teams, Google Meet, and other 10+ web conferencing platforms
Zoom, Microsoft Teams, and Google Meet
Available On
Web, Chrome extension, Android, and API
Web, Chrome extension, Android, and iOS
Transcription Accuracy
90%
85-95% (Some users said that the accuracy of Otter.ai falls in this bracket)
Record Meetings via a Live Link
Yes
Yes
Custom Vocabulary
No
Yes
Create Soundbites
Yes
No
Playback Speed
1x, 1.25x, 1.5x, 1.75x, 2x
0.5x, 0.75x, 1x, 1.25x, 1.5x, 1.75x, 2x, 3x, and skip silence
CRM Integration
Yes
No
Customer Support
Live chat
Email support
Priority support
24*7 support available
Email support
Pros
Create different folders to stay organized.
Get detailed notes and meeting summaries.
Record meeting in high-quality.
The speaker identification feature is available.
Support transcription in both recorded and live meetings.
Provide team collaboration and transcription editing tools.
Available on web browsers and mobile apps.
Cons
The editing feature can be improved.
The interface may look cluttered to beginners.
Currently only supports English.
Otter.ai vs. Fireflies.ai: Full Comparison 
Otter and Fireflies are two well-rounded apps to improve productivity during a session and reduce the time spent on after-meeting activities (like creating follow-up emails, summaries, etc.). But the choice between the two — Fireflies.ai vs. Otter.ai — will depend on your needs and how you want to use it. 
Here, I will evaluate the main features and see how the two meeting assistant tools differ. 
1. Pricing and plans
Both Otter and Fireflies offer a free plan for those wanting to understand how these meeting assistants work. In terms of affordability, Otter provides a more cost-effective plan compared to Fireflies.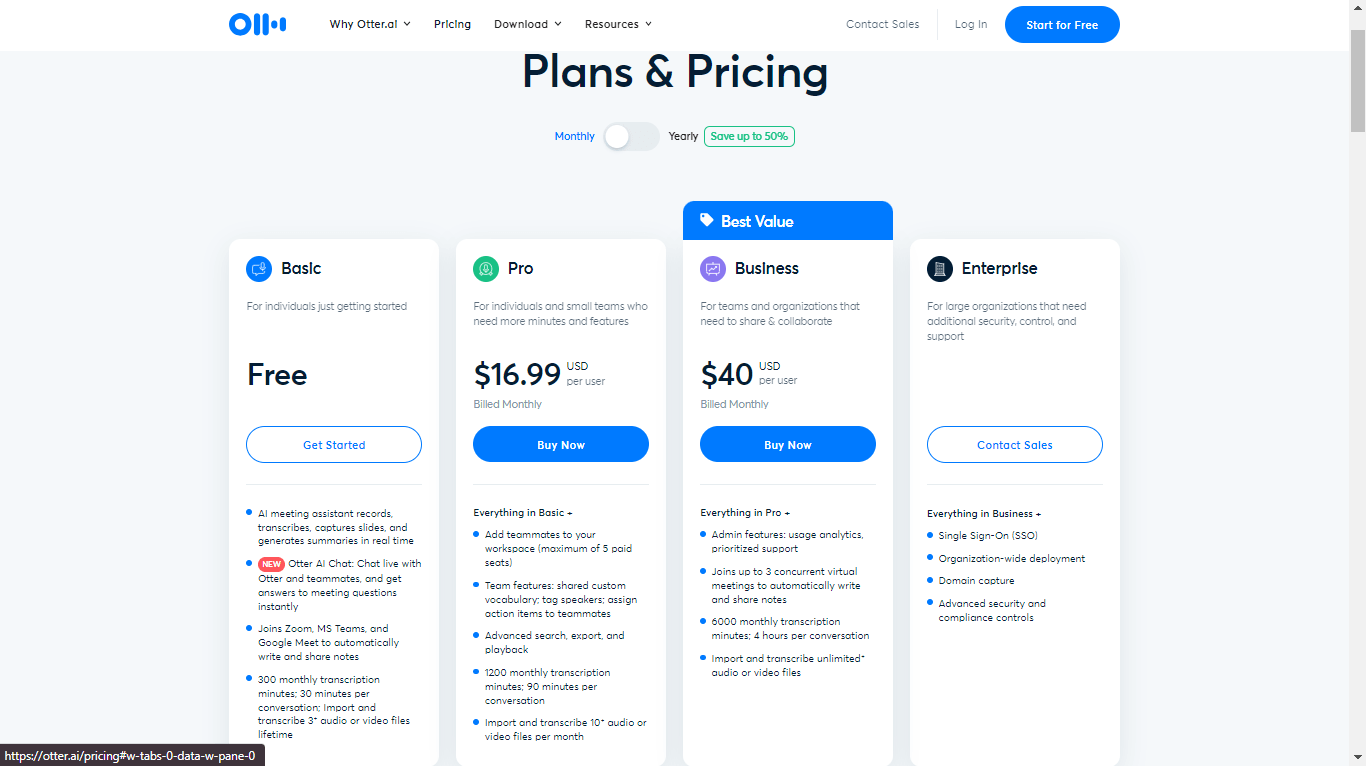 (Note: Under the free basic plan, Otter users can only transcribe three media files in a lifetime. If they want to continue using Otter for transcription, they will need to upgrade their free plan to a paid one.)
In addition to the free Basic plan, Otter offers a Pro plan starting at $16.99 per month (billed monthly) and a Business plan at $40. Fireflies AI tool is a bit expensive as the Pro plan costs you around $18 per month (billed monthly). However, the Fireflies Business plan, starting at $29 per month, is much more affordable compared to Otter.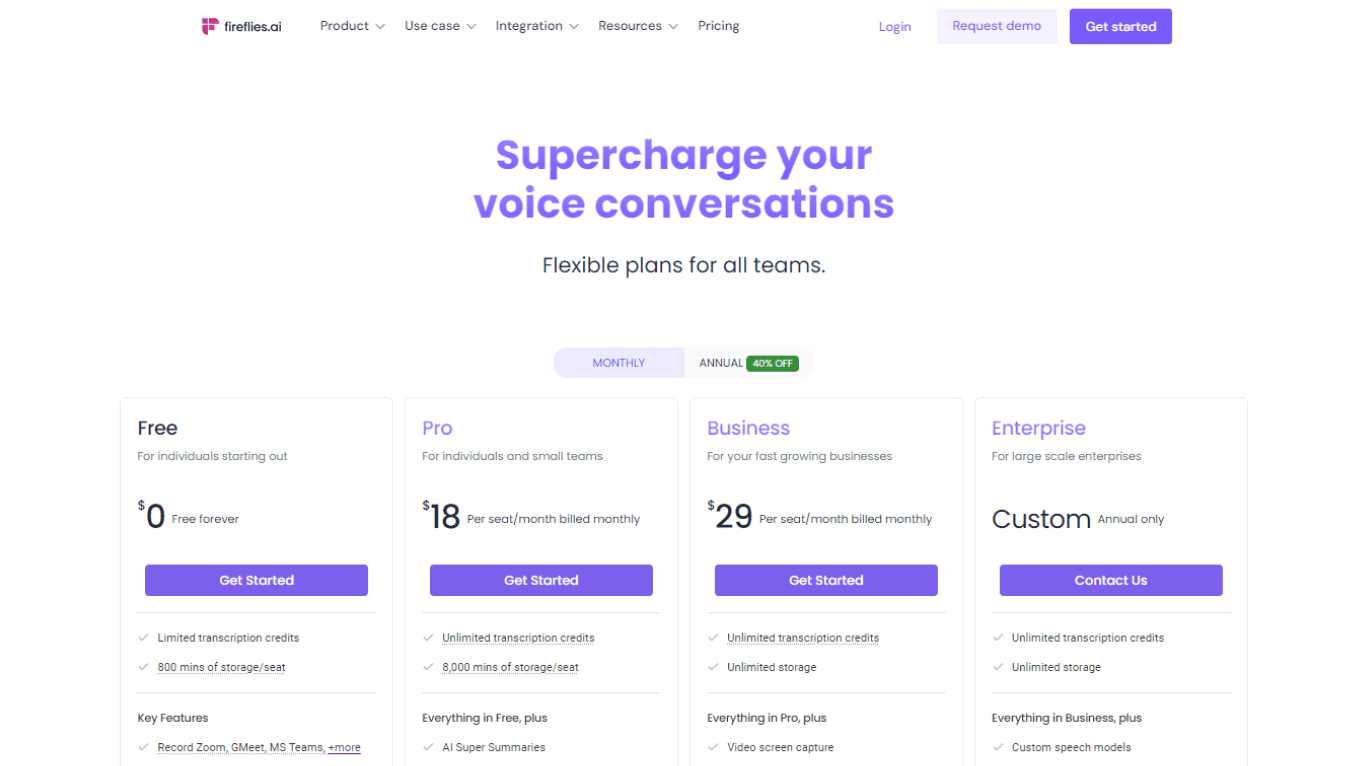 2. Use cases 
Otter works for voice recording, too. For instance, you can record audio and prepare the first draft using voice. 
I tried Otter while writing this article and found it to be pretty useful. Instead of typing everything with my hands, the AI allows me to talk about my ideas and directly skip to the editing part. 
The use cases of Otter go beyond voice recording. Podcasters can use Otter when they record the content for their podcasts. Similarly, YouTubers can generate summaries for their new videos by uploading the media file. 
The Fireflies work in a similar way to record, transcribe, and summarize meetings. You can upload the file, and the tool will generate transcripts so you can quickly take a glance at the written text. It might take a bit of time to process everything, but it works just as fine as Otter. 
Fireflies.ai also lets you auto-capture screen recordings of your video meetings so you can get more clarity while reviewing past meetings. On the other hand, Otter.ai allows users to record the audio and transcribe it in real-time. Currently, there is no feature to record screens using the Otter.ai transcription service. 
3. Customer support 
Fireflies has a live chat feature located right at the corner of the dashboard. However, there's no such phone or live chat support available in Otter. All you can find is an email address to contact the team and submit a support request. It's a bit disappointing for users looking for urgent support. 
In addition to the live chat feature, Fireflies provides email, priority, and 24*7 support. So, if you prefer a transcription service that offers quick customer support, Fireflies is the right choice.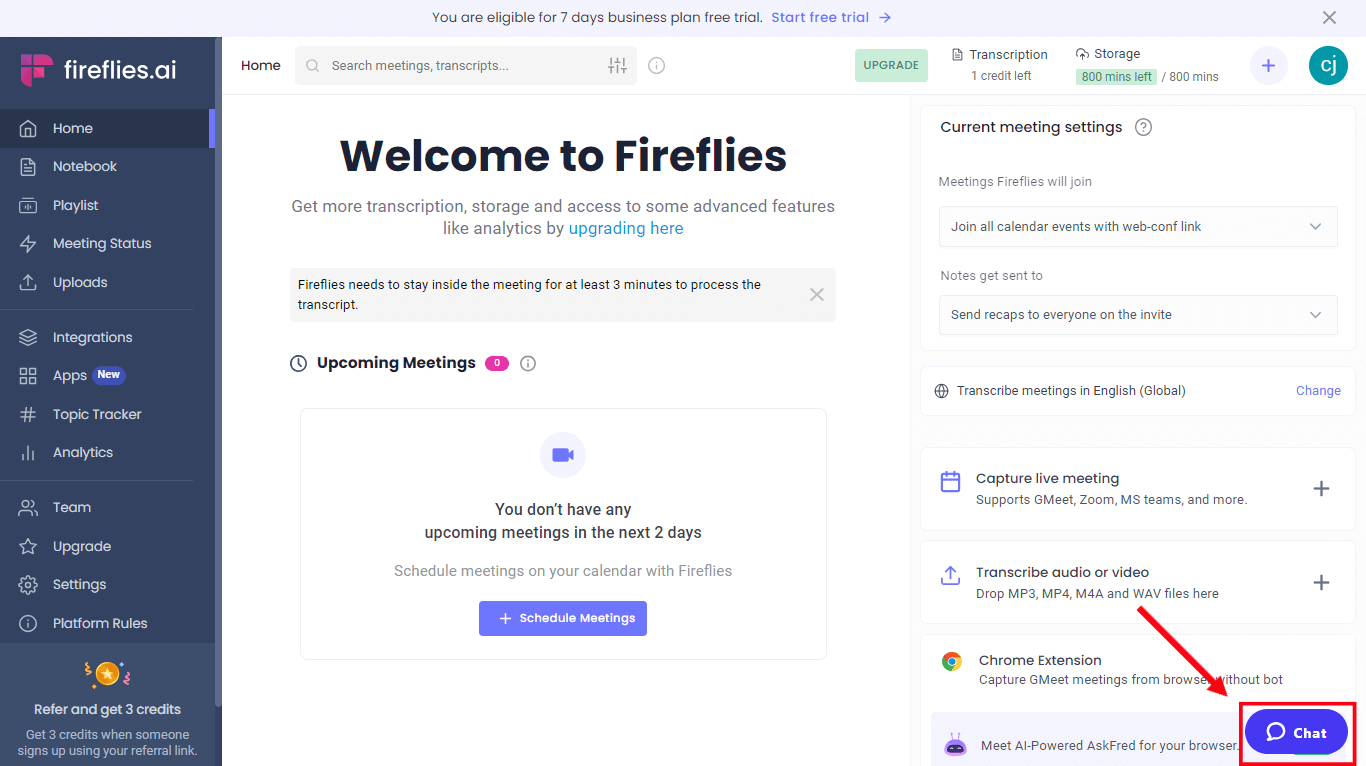 4. Live transcription and summaries 
One standout feature of Otter and Fireflies is live transcription. Once you connect your Microsoft or Google account calendar with Otter, these meeting assistants allow you to see which meetings are coming up. 
The bot automatically joins the meeting (Zoom, Google Meet, or Microsoft Teams) to record and transcribe it without the hassle of using pen and paper to jot ideas. This feature becomes invaluable in case you're running late or not attending the meeting at all. 
Otter generates transcriptions with a collection of key takeaways, action items, and a summary of the entire thing. If you are planning to use Otter for your next transcription, check out the following step-by-step procedure. 
Amazingly, these meeting assistants break the transcript into bullet points with accurate information. However, Fireflies.ai is a step ahead of Otter. The 'Ask Fred' feature answers follow-up questions if there's something you would like to know about the meeting. 
5. Integrations and accessibility 
Fireflies offer a massive range of integrations that make it suitable for even more use cases, far more than Otter. 
For example, you can directly connect Fireflies with Notion to export the transcripts and notes to the app, which can then be shared with co-workers. It can also integrate with HubSpot to automate workflows and improve overall productivity.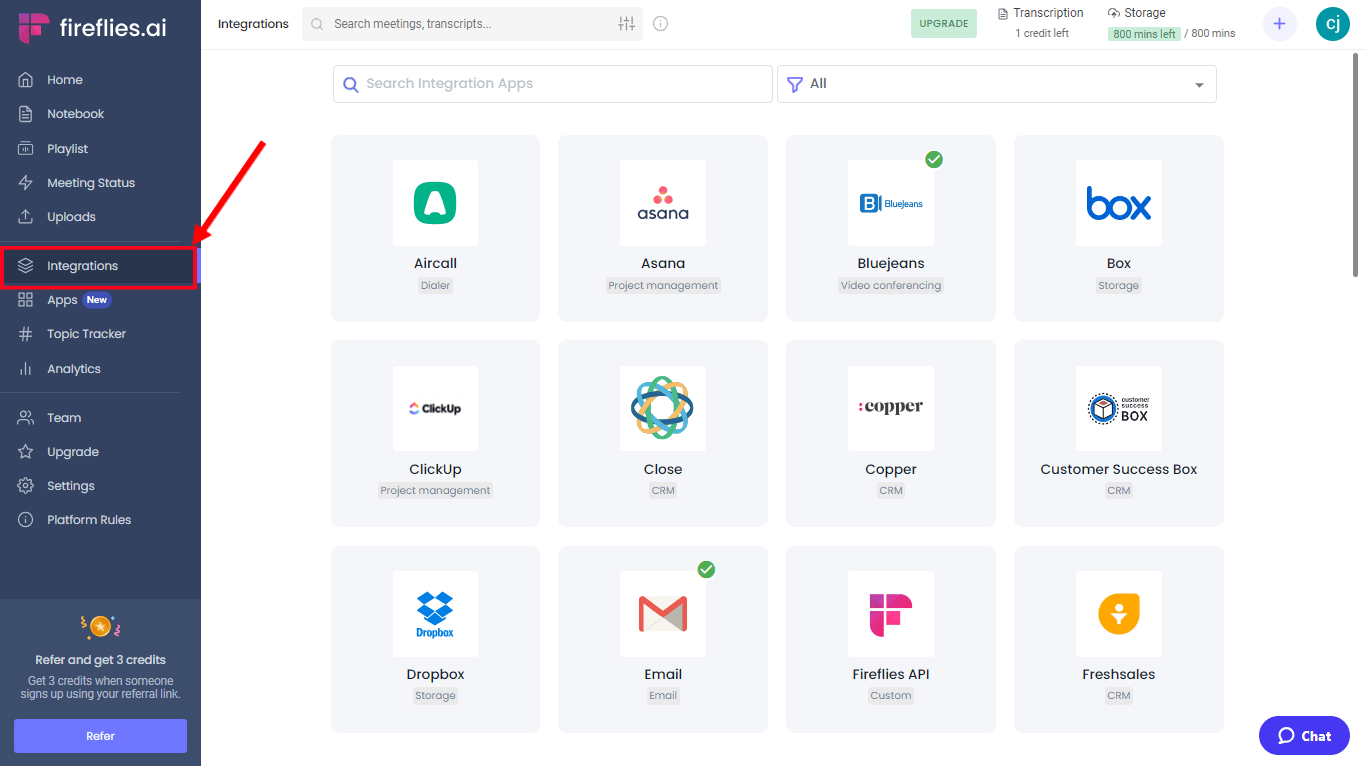 On the other hand, Otter.ai has limited integrations that majorly focus on syncing media files to cloud services (such as Dropbox and Salesforce). If you are looking for a tool that can integrate with third-party apps, Fireflies might be the right choice.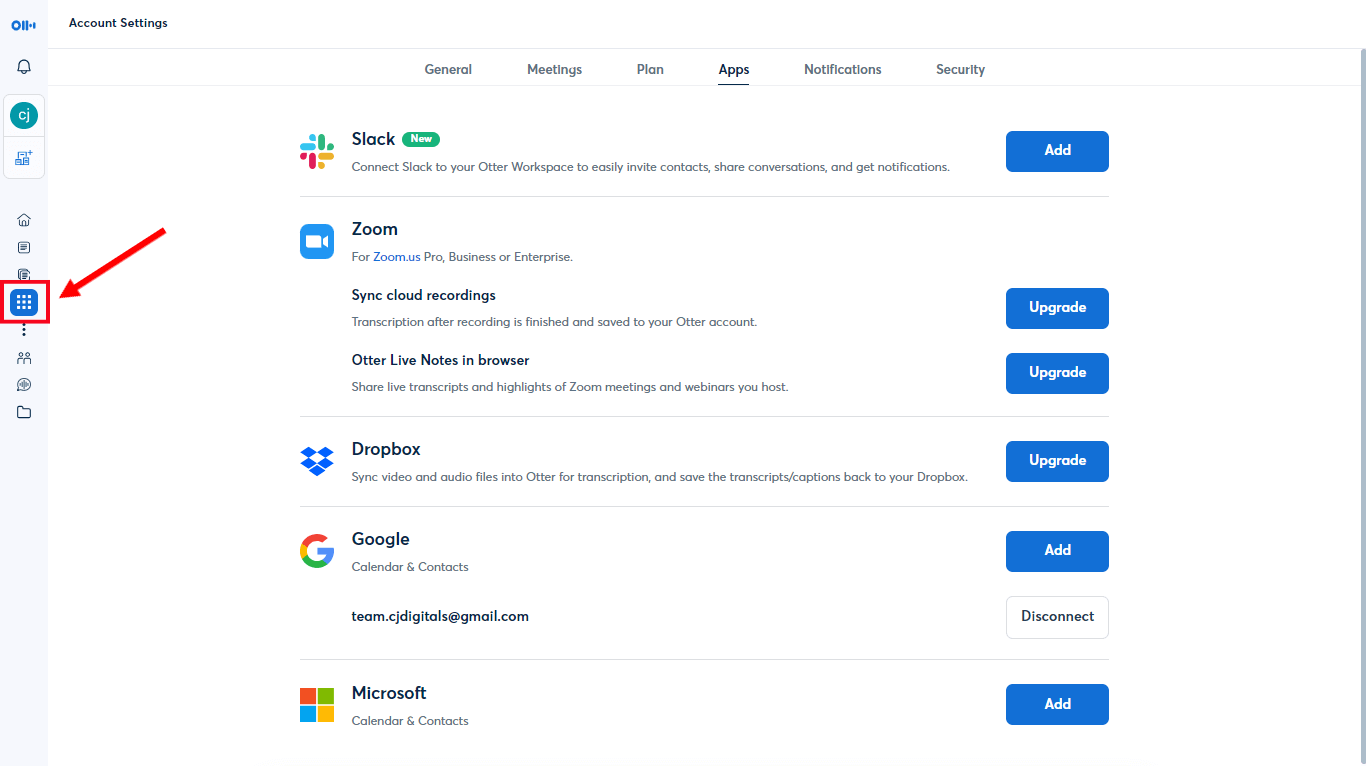 How to choose between Otter and Fireflies?
Now you know the similarities and differences between Otter and Fireflies. Here are some questions you can ask yourself to help you determine which of the two platforms best suits your needs:
Do you extra meeting features?
 If you are an individual who needs to get transcripts for your meetings and audio, Otter will work just fine. 
If you need extra features, such as the ability to automatically capture crucial information from recordings and key it into a database, Fireflies is the way to go.
Do you intend to analyze recorded meetings?
 Fireflies comes with conversational intelligence, which analyzes your recordings to provide insights on how to improve your meetings.
Do you plan to integrate the tool with other business apps?
Otter works perfectly if you intend to use it as a standalone tool, while Fireflies works better if you want integrations with third-party business tools like Hubspot to automate your workflow.
 If you want an affordable meeting transcription tool for personal use, Otter has a cheaper Pro plan designed for individuals. If you want a transcription tool for your entire team, Fireflies is more affordable while offering extra features. 
Look for Another Alternative? Go for Notta
While both Otter and Fireflies are great tools in their capacity, they are less accurate and support fewer transcription languages. But what if we say you can get more features in an AI meeting assistant at a far lower price? Yes, you read that right! Notta is such an AI meeting assistant to record and transcribe meetings at a much lower price ($13.99 per month). See more details on Notta vs. Otter and Notta vs. Fireflies.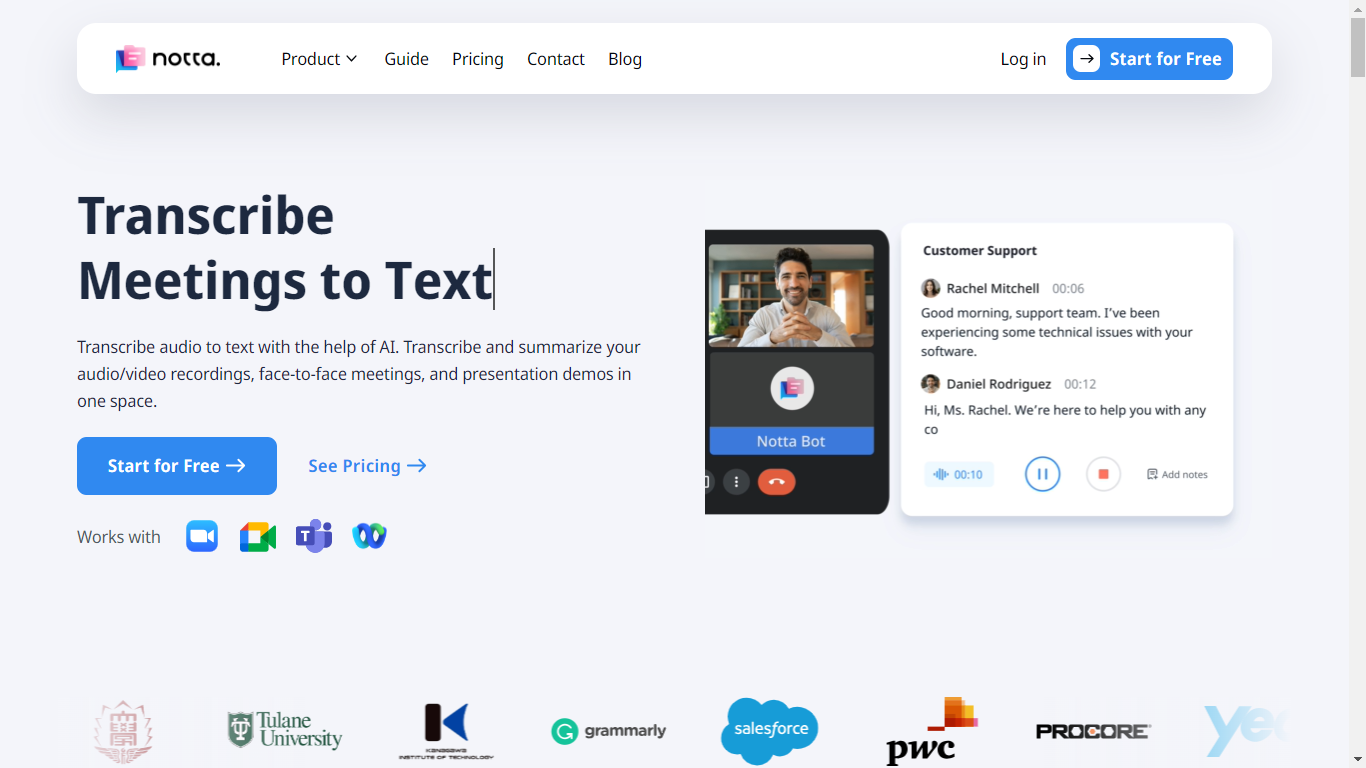 Here are a few reasons why teams prefer Notta over other transcription tools: 
High Accuracy: Notta is an all-in-one tool that instantly transcribes meetings and saves them on the dashboard. In addition, it provides a higher transcription accuracy rate of 98.86%, which is far higher than Otter or Fireflies. 
Multilingual Transcription: Otter.ai might help you with basic transcription features. But if you want to take things to the next level and improve productivity, you should try Notta. While Otter is only limited to English, Notta lets you transcribe live conversations in 104 languages. 
Built-in Scheduler: Unlike Fireflies.ai, Notta has a built-in scheduler feature. With this astounding feature, users can easily create invites and share the joining link with their attendees. By accessing this feature, one eliminates the need for multiple inquiry emails or sharing unnecessary links.
Speed: When you have an audio file that is one hour long, you will look for a way that would speed up the entire transcribing process. Both Otter and Fireflies do a solid job when it comes to transcribing lengthy audio and video files, but Notta can easily transcribe any online audio file of 1-hour long in only 5 minutes.
Transcription Methods: There are two ways to transcribe media files using Notta — live transcription and importing the pre-recorded files. Notta integrates well with Google Meet, Webex, Zoom, and Microsoft Teams to record and transcribe live meetings in real time. If you have audio or video recordings of your meetings stored locally on the computer, you can import these files for transcription by selecting the 'Import Files' option on the Notta dashboard.
Convert Audio to Text
The best online audio to text converter helps you to transcribe audio files to text with 98.86% accuracy.
Otter.ai vs. Fireflies.ai: The Final Verdict 
At the core, most transcription software uses the same machine-learning technologies to transcribe meetings. The decision of the right application between Fireflies.ai vs Otter.ai will solely depend on what kind of features you want and how much time you would like to dedicate to transcribing your audio files.
That being said, if you are looking to transcribe meetings into different languages and searching for a more affordable transcription tool that helps you in all of your live meetings and even transcribes your pre-recorded audio-video files, we highly recommend checking out Notta.
Notta is a user-friendly AI meeting assistant tool that offers a wide range of features that improve your overall productivity. This AI tool is trained to easily transcribe meetings in the conversation format as well as generate summaries with action items. Register to your free Notta account and start transcribing without worrying about any errors.