How to Write a Great Meeting Summary (with Examples)
In the modern workspace, meetings have become an essential part as they provide an opportunity to collaborate, share ideas, and make important decisions. However, with the increasing frequency and complexity of meetings, it can be challenging to keep track of everything discussed during the meeting. 
This is precisely why meeting summaries are vital.
A meeting summary or recap offers a streamlined and condensed version of the meeting's key points and outcomes - making it easier for stakeholders to scan and obtain the information they need.
Not sure how to write a meeting recap? No worries. In this article, we will explore the best practices for creating an effective meeting summary that captures the essence of the meeting, along with meeting summary examples to get you started immediately!
What is a Meeting Summary? 
A meeting summary (or meeting recap) is a concise overview of important discussions, decisions, and action items from a meeting.
It is typically sent as an email to stakeholders so that they know what happened at a glance.
The core purpose of the meeting summary is to remind attendees about the tasks and specific responsibilities assigned to them. A few things that a meeting summary should include are decisions, due dates and deadlines of tasks, session recap, etc.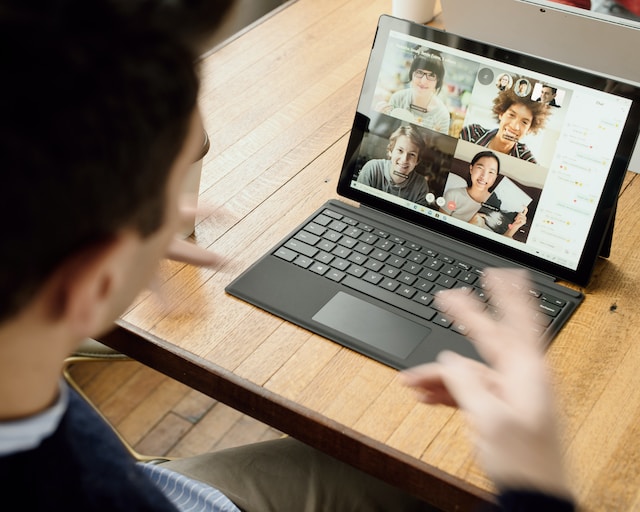 Who is responsible for writing a summary?
Typically, the person who leads the meeting would also be responsible for creating the meeting summary. However, in some companies, there may be a designated person responsible for the task. 
In any case, the person charged with this responsibility will often be someone who is actively engaged in the meeting and has a clear understanding of the meeting goals and talking points.
A meeting summary should be created as soon as the meeting ends while the information is still fresh in everyone's minds to guarantee that the information is accurate. It should then be circulated to all participants and stakeholders that were invited to the meeting. 
Meeting Summary Vs. Meeting Minutes 
While both the meeting summary and meeting minutes provide a record of what was discussed during the meeting, they differ in certain aspects. 
Let's compare and contrast the meeting summary and meeting minutes in the following table. 
| | Meeting Summary | Meeting Minutes |
| --- | --- | --- |
| Description | Simply put, a meeting summary is a less detailed recap of the meeting. Think of it like a brief and concise synopsis that covers the key details, action items, and discussions. | Unlike the meeting summary, the meeting minutes are a detailed report that covers 'minutes' details of the session. Think of it like an official meeting documentation that covers a clear meeting agenda, timelines, decisions, action items, etc. |
| Purpose | The purpose of the meeting is to help attendees recollect the main ideas of the entire session. | Despite its name, meeting minutes do not cover minute-by-minute details of the session. Instead, it includes action items, decisions made, and the next steps planned. It's like a lengthy version of a meeting summary that digs deep into what's happened during the session. |
| Tone | It is typically written in an informal tone with an email format. | The meeting minutes are written in a formal tone with a well-structured format. |
| Use | Often, the host shares the meeting summary with the attendees or team members to ensure they understand everything about the meeting. | This detailed report or official document is generally used as a reference for anyone who has attended the meeting. |
| When it is written | The meeting summary is generally written after the virtual session ends. | Unlike the summary, the meeting minutes are written during the virtual meeting. |
How to Write a Good Meeting Summary? 
A great meeting summary should capture the most important information from the meeting and provide an overview to enable participants and stakeholders to understand what was discussed and agreed upon. It must also be clear, concise, and easy to read. 
Ready to write a meeting summary? Here's how.
1. Take detailed notes 
The first step is to create detailed meeting notes by actively listening and writing the key points. You can either use the old-fashioned pen-and-paper method or a digital note-taking platform like Google Docs, Google Keep, etc. 
If you have permission to record the meeting, that's even better, as manual note-taking during a meeting could be arduous and sometimes result in inaccurate or incomplete notes. 
Pro tip: Use the Notta AI note-taker to record conversations (for both online and in-person meetings) and generate high-quality meeting transcripts, which you can refer to when you write the meeting summary.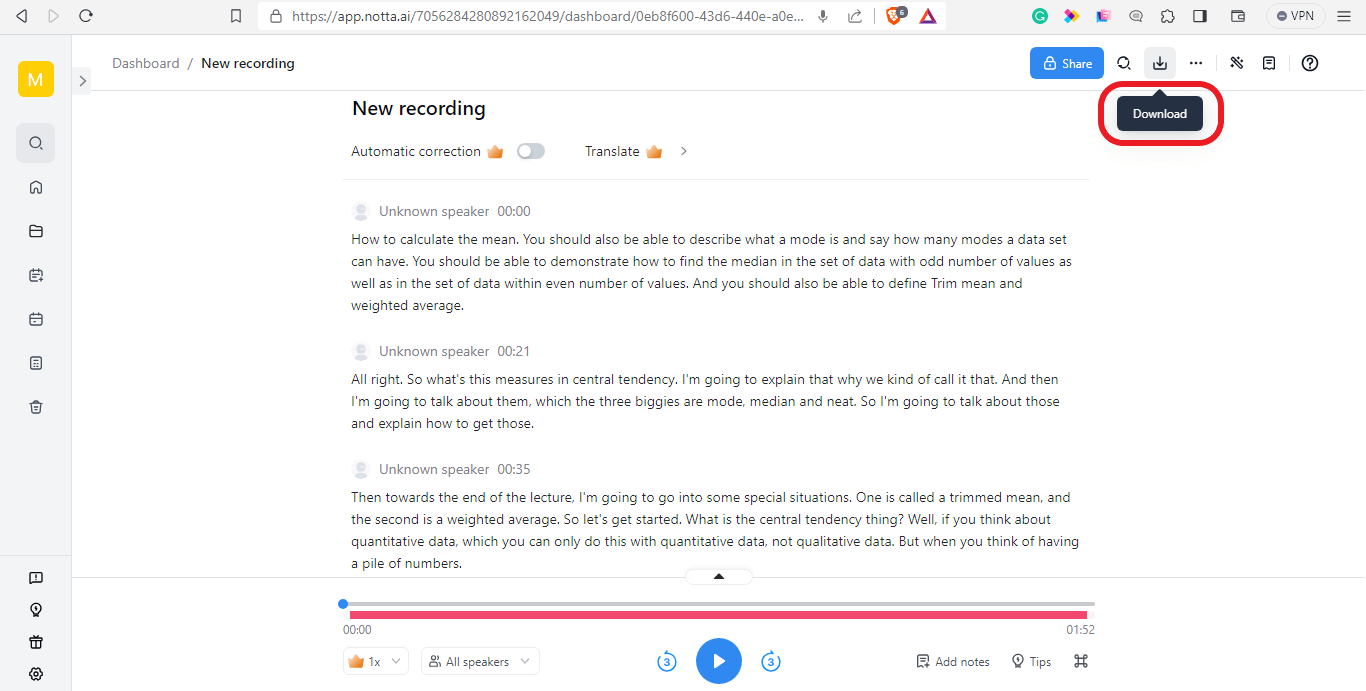 2. Highlight key points or discussions 
The summary should include the key takeaways and highlights of the meeting in simple language. Start by identifying the decisions made in the meeting and organize them based on the priority level. 
While crafting a summary, ensure it is clear and concise to help everyone quickly understand the context. You must clarify the roles and responsibilities of the attendees to avoid long-term confusion. 
3. Add clear action items 
The next thing you'll need to include while writing the meeting summary is a section with action items. The recap should have clear details that directly address the doubts or questions that team members might have. 
The action item list should include the task assigned, the exact deadline, and who is responsible for which tasks. This valuable roadmap will help complete tasks faster, eliminating the chances of confusion in the later stages. 
Pro tip: Notta can not only provide a complete transcript but also create a summary with advanced AI algorithms in seconds, saving you valuable time.
4. Include key takeaways at the bottom 
Regardless of how well you've crafted the summary, it should have a note closer or a key takeaways section at the bottom. This short part will include the tasks decided and the team members. 
5. Attach supporting documents (optional) 
If you want to present some information clearly in the summary, add a supporting document or reference. It can be anything, such as a presentation, spreadsheet, report, client brief, etc. With these documents, you can make the concept more clear and ensure the tasks are completed on time. 
6.

Proofread and make necessary edits

No one likes an error-ridden or inaccurate report. Therefore, proofreading the meeting summary is one of the most vital steps.

Carefully review the meeting summary to ensure that it accurately reflects what was discussed during the meeting. Ensure that the focus is on vital talking points and that the details included are true and correct. And where you are unsure about a fact or detail, revisit your meeting notes or recording to confirm.

Also, edit the summary for grammatical correctness, logical consistency, concision, and brevity. Even though these aspects focus more on form than substance, they are key indicators of the quality of your summary. 
7. Share the meeting summary with all stakeholders
Once you have created the meeting summary, send it to all the attendees. You can either copy-paste the summary to your calendar invite or email it to the team members. Confirm that everyone who is required to know about the meeting and its details is on the mailing list. 
Pro Tips for Writing a Summary of a Conference
If you are looking to elevate your meeting summary and make the process of writing one more efficient, here are the best practices to guide you: 
1. Use a meeting summary template
Meeting summary templates serve as a guide for how you will structure your meeting summary. Creating or adopting one before you start writing your summary provides a clear direction for your writing so that you can simply plug in the relevant details from the meeting. 
2. Keep it concise and accurate
A meeting summary should be brief and to the point, focusing on the key points and decisions made during the meeting. Avoid including unnecessary details or tangents that do not contribute to the overall summary. 
It is also important to ensure that the summary accurately reflects what was discussed and decided during the meeting. 
3. Organize the information in a clear format
One reason to create a meeting recap is to make it quick to review, which is impossible if all the information is put into a long paraphrase.
So, organize the information in a clear format; here are some tips:
Using headings or subheadings to break up different topics and sections.

Using bullet points or short sentences to convey the key points

Using different colors
4. Get feedback
Before circulating the summary to all participants and stakeholders, consider sharing it with trusted colleagues who were at the meeting to get their feedback and ensure that the summary is clear and accurate.
By following these tips, you can create a high-quality meeting summary that effectively communicates the key points. This can help ensure that everyone is on the same page and working towards the same goals.
Example of A Meeting Summary 
For those who are planning to write a meeting summary for their team or client session, it might be confusing to understand where to start. That's why I've created the ready-to-start template, so you can get off on the right foot in no time. 
Meeting summary email template 
If you want to write a meeting summary that only targets the action items and key discussion, here's a concise and crisp template. 
Subject: Meeting Summary: [Title] conducted on [Date] 

Example: Meeting Summary: Marketing session conducted on August 20, 2023. 

Hey, Team! 

I hope you have had a productive session about [topic]. 

Here's a quick meeting summary so everyone can understand what was discussed and how we are planning to move ahead. 

Meeting Objective: You can explain the purpose or aim of the meeting in one or two sentences. 

Here are the key discussions and decisions we must focus on as we move ahead. Also, I've included the different topics discussed during the meeting.

Topic Name 1: One-line description 

Topic Name 2: One-line description

Topic Name 3: One-line description 

Action Items

@name (team member) will complete the [task 1] by [due date] 

@name (team member) will complete the [task 1] by [due date]

@name (team member) will complete the [task 1] by [due date]

**If there is more information you want your team members to know, add a note after the action items section. 

[You can list the documents or reference links used by the host or attendees during the session.] 

Thank you, team, for your time and input during the meeting. 

Warm Regards, 

[Your Name] 
Meeting summary email example
Subject: Meeting Recap/Summary: [Meeting Title] 

Hey, team! 

I hope you all have had a great week. As per our discussion in the last meeting, we are [here you can mention the outcome of a session such as 'we are going to start a new marketing project']. 

Here, I'll shed light on the keynotes from the meeting conducted on [meeting date/day]. 

First things first - start the summary by highlighting all the important points of the meeting. 

If you've resolved any issues during the session, you can mention the problems and solutions. 

Always analyze the key details discussed in the meeting so everyone can understand the context. 

Highlight the weekly and monthly priorities of action items for a smooth workflow. 

End the bullet points by writing action items or tasks assigned to each member during the meeting. 

[If you've used any external references or documents to explain the concept during the meeting, add all those links here.] 

(Optional) [Write the next scheduled meeting information so all team members stay in the loop.] 

So, team, that's it! You can start the assigned tasks and keep other team members updated. If you've any concerns, you can reply to this email or reach out to [mention any other way like a phone call or alternate email address]. 

Thank you. Hope you all have a great week ahead. 

Best Regards, 

[Your Name] 
Create Your Meeting Summaries With Notta 
Now that I've gone over how to write a meeting summary in detail, you might be thinking you need plenty of time to do that. Fortunately, you can make things easier with an AI-powered meeting summarizer, and Notta is one of the best with rich features.
This meeting assistant helps you record meetings, generate real-time transcripts, and summarize lengthy texts into condensed words. Not only will Notta help you save hours of organizing notes, but it will also make your summary better.
Here's how to create an AI meeting summary using Notta. 
Step 1: Generate a transcript
Notta has a recording function that allows you to record the meeting and generate a transcript in real-time.
But if you recorded the meeting with another tool, then simply import the recording files to Notta to get a transcript.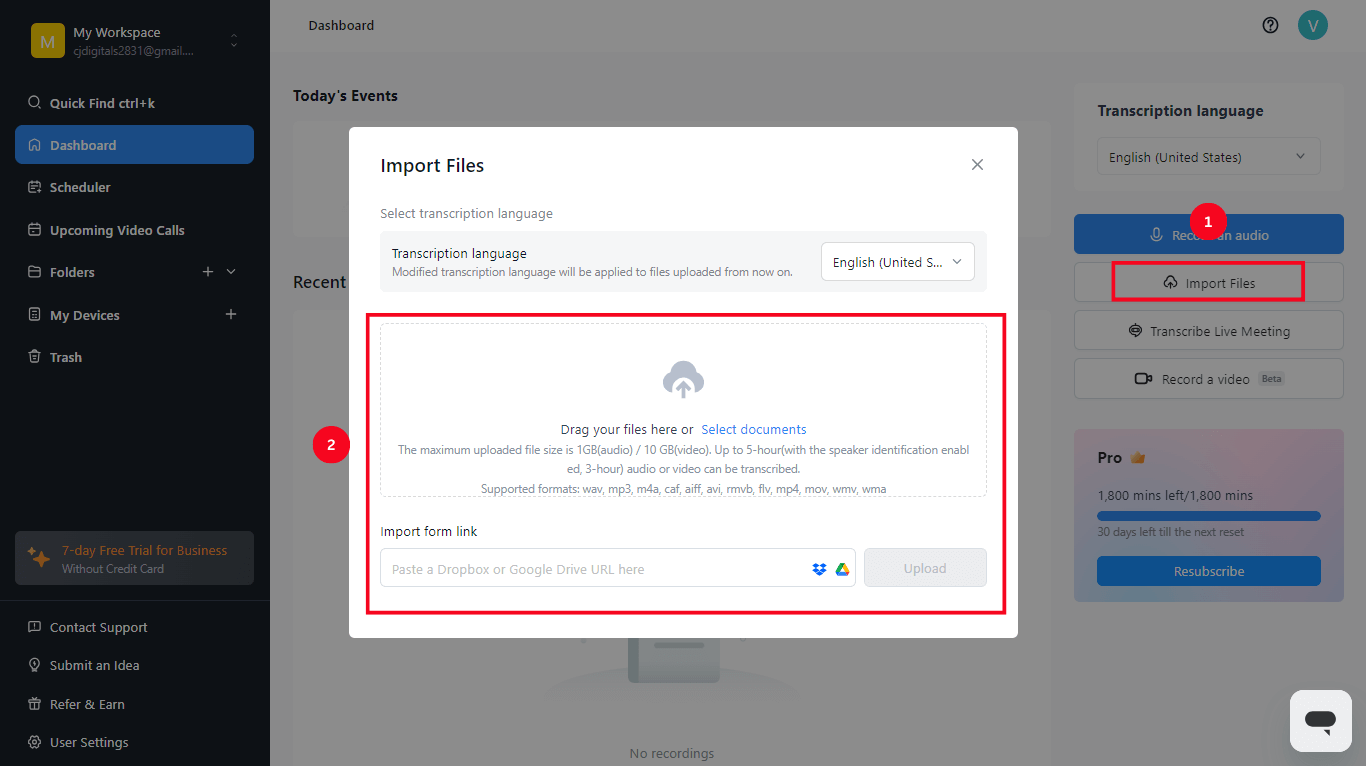 Step 2: Create a summary
Open the transcript page, then click 'AI Summary Generator' on the right side to quickly generate a meeting recap with all essential details. 
Once the AI-generated summary is ready, select 'Share' and send it to the attendees.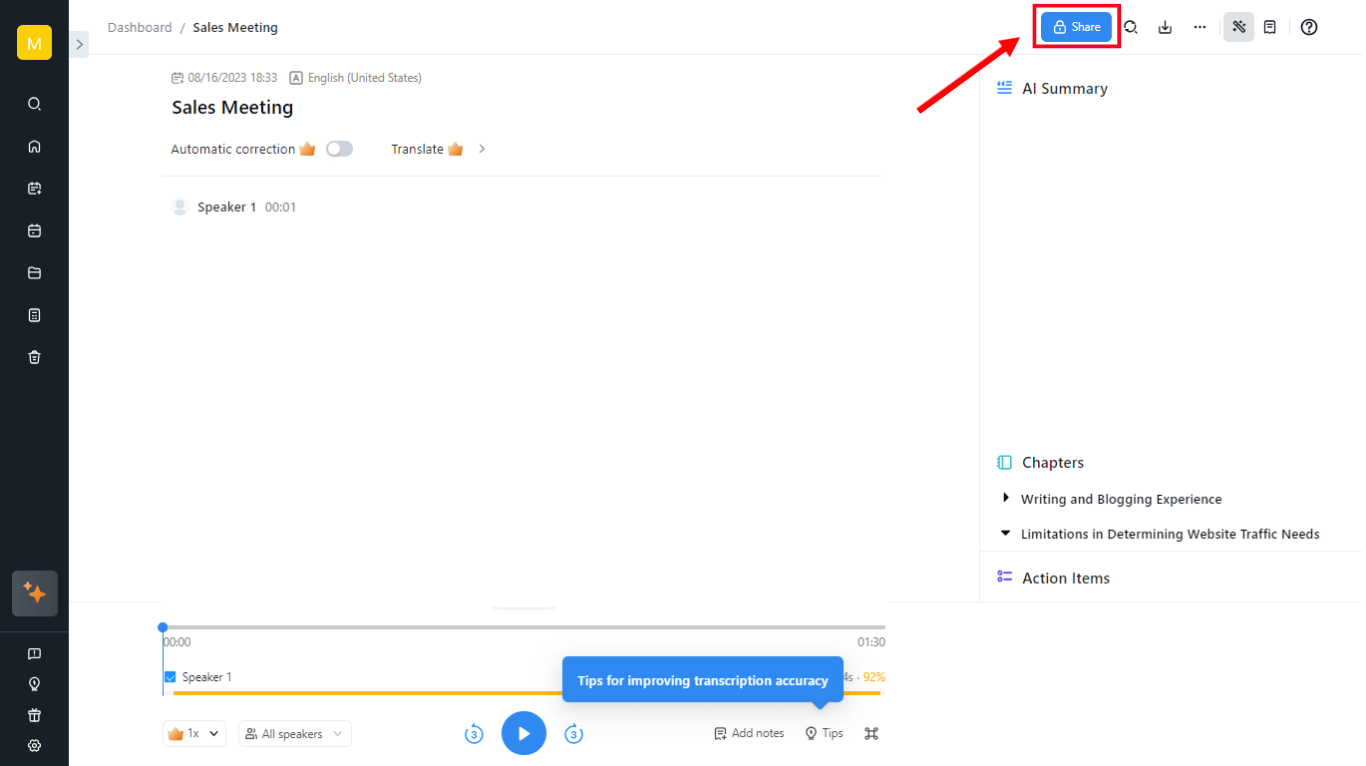 Note: While you get 120 transcription minutes monthly in the free Notta plan, the AI Summary Generator is available only in the paid plans. With the paid plans, you can also get access to other advanced features.
Transcribe & Summarize
Meetings
in Seconds
Try Notta - the best online transcription & summarization tool. Transcribe and summarize your conversations and meetings quickly with high accuracy.
FAQs
What are the meeting summary key points? 
The key points of the meeting summary should help you and your team members recall all the important details discussed. Below are some of the highlights you should include while crafting a well-structured summary. 
All the action items or tasks assigned to the attendees with submission deadlines 

Decisions made during the virtual meeting 

Any resources, documents, or references to help teammates complete the given task 

The key takeaway is to summarize the entire meeting in a few sentences or bullet points. 
What is a good meeting format? 
A well-structured meeting format should give attendees a clear picture of what will happen during the meeting, who will lead the task, and a crisp outline of the topics discussed. It is usually sent before the meeting, so attendees can prepare themselves. 
In contrast, a good meeting summary format gives team members a quick overview of what was discussed in a meeting. It ensures everyone, including the non-attendees, can get a clear understanding of the discussed topics. 
Key Takeaways 
If you are still wondering how to write a meeting summary that can be shared with all the teammates in a click, all you need to do is use an AI meeting summarizer like Notta. The AI meeting summary generator scans the content and writes a summarized version so that team members don't have to go back and forth with the recorded audio files. 
Notta's AI Summary Generator can automatically create a condensed transcript version. With a single click, you can create an AI-generated meeting summary that includes main points, key takeaways, and action items. Sign up for a free Notta account and let the AI meeting assistant handle your transcription and summarizing tasks.