15 Best Otter.ai Alternatives for Transcription in 2023
AI transcription is not a new technology in the current world. 
If you are in an online meeting and struggle with taking notes or need a text version of an audio recording, that's where AI transcription can help. You may think of using Otter.ai, but before making a final decision, are there better alternatives to Otter for your business?
The answer is a bold "Yes." 
In this article, I have compiled 15 Otter.ai alternatives that will satisfy your needs. Whether you are looking for a cheaper alternative or want a more integrated meeting productivity solution, keep reading, and you will find it.
What is Otter.ai?
Otter.ai is essentially speech-to-text software that records audio and transcribes voice conversations in real-time. You can share, search, and access those notes later. Plus, Otter's transcription software is pretty secure. You can keep your meeting notes relatively safe by using their platform. 
You can use Otter's transcription software to:
Transcribe interviews and podcasts

Record meeting minutes

Document phone calls
Your team can also access, share, and annotate notes for better collaboration. It also claims the ability to identify different speakers within an audio file.
Otter works across operating systems to transcribe audio files. The software integrates with Zoom, Microsoft Teams, and Google Meet. You can easily send a virtual assistant to transcribe recordings on those platforms. Here is a full review of Otter.ai to help you get to know Otter better.
Why You Might Need an Alternative to Otter?
Otter.ai seems to have a good range of features for business needs; however, it fails in a number of ways that some of its alternatives excel in. Below are some reasons why we need a better alternative:
You want multilingual transcription. Otter.ai only supports transcription in English. So if you need to transcribe more than English, you may want an Otter.ai alternative, like Notta (which supports 104 languages).
You don't like its transcription limits. With the free version of Otter, you get a maximum transcription duration of 30 minutes per meeting. Longer than that, you'll need to upgrade to a paid plan.

You want better customer support. After going through the Otter.ai website, they only provide email support, which is not timely. Nowadays, most services offer other ways to get support, like live chat, phone calls, or video conferences.

You need software that integrates better with your workflow. Otter integrates with many types of software, but some apps provide a better workflow. You may be able to schedule transcriptions more smoothly with another app.
So, to help you make better choices, we will look at 15 Otter.ai alternatives you can choose from. To help you go through the list a bit more easily, I have put these Otter.ai alternatives into two categories: audio/video file transcription and live meeting transcription. Now, let's check out.
7 Best Otter.ai Alternatives for Audio/Video File Transcription
#1 - Notta
Best for transcribing audio/video from any source with high accuracy.
Notta is also an AI transcription tool that can convert audio to text in a few seconds. Whatever the audio source - live recordings from the microphone, online meetings, audio files, and audio from webpages - Notta can transcribe them all. After that, you can edit, organize, or export the transcript as you like.
Notta is widely available on Windows, Mac, and mobile devices and also has a Chrome extension.
Record live conversations: You can record lectures, meetings, and interviews and have them transcribed automatically with Notta.

Upload audio/video files: Most of the popular audio/video formats are supported, including WAV, MP3, M4A, CAF, AIFF, AVI, MP4, RMVB, FLV, MOV, and WMV.

Transcribe online meetings: Notta can sync with your Google Calendar and Microsoft Outlook events. This feature automatically sends a meeting bot to your scheduled Google Meet, Zoom, and Microsoft Teams meetings. You won't have to lift a finger to get your essential events transcribed.
Key Features:
Support up to 104 transcription languages.

Real-time transcription with edit and highlight features.

Export the transcript text to TXT, DOCX, SRT, and PDF format for better accessibility.
Cons:
The web portal works perfectly, but the design is not very user-friendly.
Pricing:
Free plan

Pro plan - $13.99 monthly per user

Business plan - $59 monthly per 2 users

Enterprise plan: contact sales
Supported OS:
Windows

macOS

iOS

Android

Google Chrome
Why it's better than Otter.ai:
Notta is the top-rated voice-to-text software in the current market. It performs better than Otter.ai in terms of multilingual transcription and easy editing. See how Notta compares with Otter.ai.
Enhance Your Meeting Workflow
Notta offers features like real-time transcriptions, auto-joining virtual meetings, and scheduling online sessions with 98.86% accuracy. Its cost-effective paid plans start at just $13.99 per month, making it more budget-friendly than other solutions. Plus, it supports translation in 42 languages.
#2 - Descript
Best for transcriptions for your podcast or videos.
Descript is mainly an audio and video editor with screen recording and transcription functions. It allows you to record or upload videos and audio for immediate transcription. You can then edit the video and audio files by simply making changes to the transcript generated.
However, as far as meetings go, Descript can help you record and transcribe sessions on web conferencing platforms.
Key Features:
Live video recording and transcription that is editable

Speaker identification

Multi-user collaboration 
Cons:
No copy and paste function for video clips.

Only 1 hour of transcription in its free plan‍
Pricing:
Free plan

Creator - $15 monthly per user

Pro - $30 monthly per user

Enterprise - Customized pricing
Supported OS:
Why it's better than Otter.ai:
If you mainly want transcriptions for your podcast or videos, then Descript is a better alternative to Otter.ai. Descript has a native desktop app for Windows and Mac, which Otter.ai lacks. Otter only has a web app. Additionally, the company offers 24/7 customer support by phone or email. It's a perk that Otter.ai does not have available to its customers. See the full comparison of Otter vs Descript.
#3 - Happy Scribe
Best for a per-minute rate for those who need audio transcriptions️ and video subtitles.
Happy Scribe is an audio transcription and subtitle service that allows you to convert speeches to texts and add subtitles to video documents in over 60 languages, dialects, and accents.
With Happy Scribe, you can choose between machine-generated or human transcription. The machine-generated option is estimated to have up to 85% accuracy, while the manual option, which is completely human-made, is estimated to have 99% accuracy.
Key Features:
Advanced voice recognition.

Automatic subtitles and transcription are available in over 60 languages (manual subscription supports 11 languages).

Audio-file joiner function that helps you merge all kinds of audio files.
Cons:
Human-made transcription is more expensive than other transcription apps.

The basic plan only runs up to 120 minutes per month.

The average turnover time for transcriptions and subtitles could take a while is longer than most apps providing similar services. 
Pricing: 
Free plan

Basic plan - $17 monthly per user

Pro plan - $29 monthly per user

Business plan - $49 monthly per user

Human-made transcriptions and subtitles - From $1.75/min

Enterprise - Contact sales
Supported OS:
Why it's better than Otter.ai:
If you need accurate transcription and subtitles with less editing, Happy Scribe is the best choice for you.
Happy Scribe's transcriptions are, on average, more accurate than Otter.ai's. But Otter.ai has a faster turnaround time.  So, people whose tasks depend on accuracy, like journalists, and are likely to prefer paying on a per-project basis might find Happy Scribe more suitable, while those who require faster output might find Otter.ai more useful. See the full comparison of Otter vs Happy Scribe.
#4 - Rev
Best for large enterprises with a flexible budget.
Rev is a powerful speech-to-text solution for business organizations of all sizes. Trained with over 50,000+ hours of human-transcribed content across a wide range of topics and industries, Rev produces highly accurate transcripts from your videos and audio. If you will be transcribing loads of prerecorded and real-time speeches, Rev is the app for you. Rev also offers human transcription services with a 24-hour turnaround.
Key Features:
Auto detects video or audio speech in 36 languages.

Offers transcripts, captions, and subtitles service.

Allows audio tagging and video extraction.
Cons:
There is no free version. Only a free trial with limited features is available.

The AI tool does not offer customized editing features. 
Pricing:
Human Transcription - $1.50 per minute

English Closed Captions - $1.50 per minute

Global Translated Subtitles - $5-12 per minute
Supported OS:
Why it's better than Otter.ai:
Rev shares many features with Otter, text editor, real-time transcription, annotations, and more. Rev is not a meeting management platform so it lacks core features like speaker detection and identification. However, it stands out for its voice-to-text transcription precision. See the full comparison of Otter vs Rev.
#5 - Sonix
Best for directly uploading audio files from cloud storage.
Sonix is best known for automated subtitling, translation, and speech-to-text transcription. With Sonix, users can easily transcribe audio, lectures, and speeches in minutes. Thanks to an advanced speech-to-text algorithm.
Sonix can transcribe virtual meetings with the uploaded recording files. It also offers multilingual transcription (up to 35+ languages), transcript sharing, comment, and editing for collaborators.
 Key Features:
Searchable and editable transcripts. 

Speaker recognition and word-by-word timestamping.

Real-time video transcription and subtitle.

Confidence level checker. 
Cons:
Does not support transcribing meetings in real time. 

No mobile app.
Pricing:
Standard Pay-as-you-go - $10 / hour 

Premium Subscription - $5 / hour plus $22 per user/month

Enterprise Subscription - Contact sales
Supported OS:
Why it's better than Otter.ai:
Unlike Otter.ai, Sonix supports multiple languages. It's pretty good for transcribing interviews with people who speak different languages. It integrates with Adobe Premiere, Salesforce, Evernote, and Zapier, which Otter cannot do.
#6 - Amberscript
Best for generating research interview transcription of different languages.

Amberscript is an on-demand transcription service for audio and video files. It uses voice recognition technology to automatically transform audio into text and subtitles. With the help of its online editors, users can easily review the generated text or employ Amberscript professional transcriptionists to edit to perfection.
Amberscript is one of the go-to tools for academic institutions that need to transcribe lectures and research on the go. 
Key features:
Provides both automatic and manual transcription with a fast turnaround.

Add captions and subtitles to the video.

Businesses can integrate the workflow via API.
Cons:
Has integration limitations. 

The accuracy of other languages like German is lower than English. 
Plans & Pricing:
Amberscript has a flexible pricing option for its transcription service.
One-off credit - $20 for 1 hour of audio or video uploaded

Subscription - $56 per month for 5 hours of audio or video uploaded

Human-made transcription - from $6 per minute
Supported OS:
Why it's better than Otter.ai:
Amberscript is a good option for transcribing audio or video files. It supports 39 languages, while Otter only handles English with all accents.
#7 - oTranscribe
Best for journalists and academics to transcribe interviews.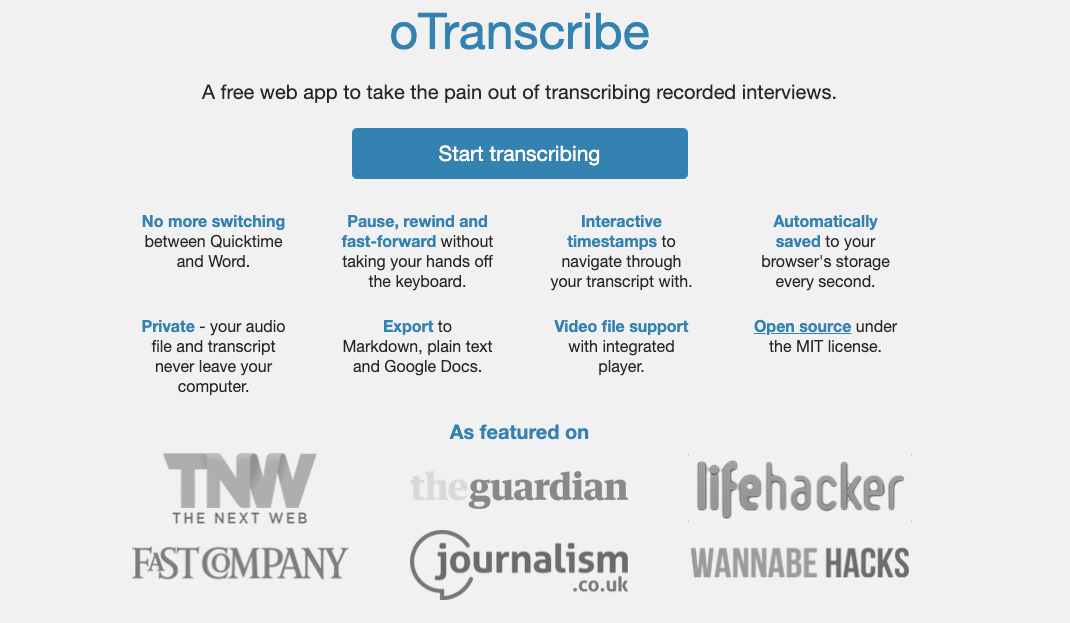 oTranscribe is a free, open-source web application for transcribing recorded audio and videos.
Note: Unlike other software that offers automatic transcription, oTranscribe is aimed to help users do manual transcription more easily.
Its text editor and video player are on the same window, so users can easily operate without having to switch tabs. oTranscribe is designed to allow users to start, pause, stop, rewind, and fast-forward players with their keyboards. 
The app generates interactive transcripts with timestamps for easy navigation. It automatically stores the transcript in your browser storage which you can instantly export as plain text, markdown, or Google doc. 
Key Features: 
Private and secure with an MIT license 

Integrated player for video files 

Autosave to web browser storage 

Add reminders to specific parts of video or audio
Cons:
Only works on the Desktop

No customer service or other support
Plans & Pricing:
Supported OS:
Why it's better than Otter.ai: 
oTranscribe is ideal for anyone looking for a free audio-to-text tool. However, if you are pleased with uploading your pre-recorded meetings to get your meeting transcripts, it's a cool tool at no cost.  But for live-captioning and real-time note-taking, Otter.ai is better.
8 Best Otter.ai Alternatives for Live Meeting Transcription
#1 - tl;dv
Best for transcribing virtual meetings on Google Meet.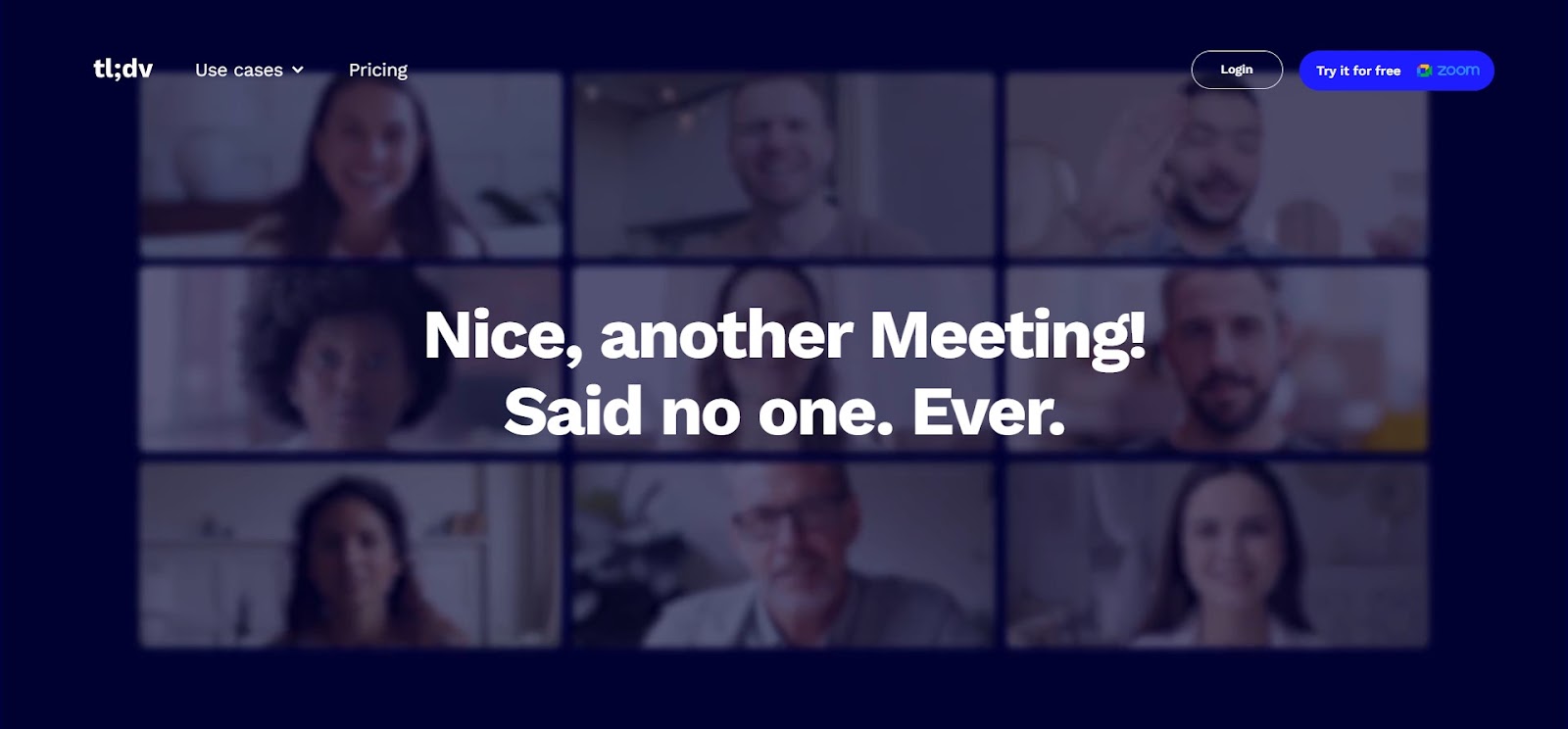 tl;dv functions majorly as a meeting documentation tool for Google Meet, Microsoft Teams, and Zoom.
Its goal is simple – reducing the number of meetings you attend and the number of team members required to participate in meetings. tl;dv bot achieves this by recording and live transcribing meetings while allowing participants to highlight critical moments that would be later shared with the rest of the team.
Key Features:
Live transcriptions in over 30 languages.

Zoom, Teams, and Google Meet live meeting recording.

Time-stamped highlights to make reviewing meetings easier.

Share meeting documents and outcomes with Notion, Google Docs, and more.
Cons:
Does not have a dedicated note-taking function.

More expensive than most meeting transcription software.

The free version only allows access to recordings for seven days.
Plans & Pricing:
Free forever

Pro - $25 monthly per user

Enterprise – contact sales
Supported OS:
Windows

macOS

Google Chrome
Why it's better than Otter.ai:
Unlike Otter.ai, tl;dv's multilingual option makes it best suited to diverse remote and hybrid teams. While Otter.ai is suited to both individuals and teams of different sizes, most of tl;dv's plans and prices appear to be better suited to small teams that can afford the relatively high subscription cost.
#2 - Fireflies.ai
Best for teams to collaborate on the same transcripts.
Fireflies is a meeting assistant that allows you to audio-record and transcribe meetings on web conferencing platforms. 
Fireflies live-transcribes meetings and process them for a few minutes. Once the processing is complete, it will give you a summary of the meeting, the audio recording, and the transcript, to which you and other team members can add comments or mark specific parts.
Key Features: 
Transcribe both live meetings.

Smart search and topic trackers.

Uses Zapier and APIs to connect with other apps.
Cons:
No live video recording is available in Free and Pro plans.

Poor user onboarding experience.

The interface is not intuitive.
Plans & Pricing:
Free – no cost

Pro - $18 monthly per user

Business - $29 monthly per user

Enterprise - contact sales
Supported OS:
Why it's better than Otter.ai:
According to Fireflies, it has 90% transcription accuracy for most types of meetings, which is better than Otter, which often gets complaints about its accuracy. Learn more on Otter vs. Fireflies. The best part of Fireflies is its wide integration with CRM & collaboration apps like Salesforce, Hubspot, Slack, etc.
#3 - Grain.co
Best for people in customer-focused roles to record meetings.
Grain is a meeting recording and transcription tool that helps teams plan, execute, and follow up on Zoom, Microsoft Teams, and Google Meet meetings.
With Grain's calendar integration, you can schedule your meeting and invite other participants. You can also set your meeting to auto-record on Grain by connecting your Calendar to the app and selecting the meetings you would like to record.
Like other meeting tools, Grain also integrates with apps like Notion, Slack, and Salesforce to easily share video clips.
Key Features:
Live transcriptions in nine languages.

Video library that keeps all your meeting recordings.

Work collaboratively on the transcript, edit, and download it in the format of your choice.

Meeting highlights and summary.
Cons:
The limited nature of the free plan.

It doesn't have a meeting agenda or task follow-up functions.‍
Plans & Pricing:
Free

Starter - $19 monthly per seat

Business - $39 monthly per seat

Enterprise – contact sales
Supported OS:
Why it's better than Otter.ai:
Grain offers transcription and translation services in more than 20 languages, making it a suitable choice for global teams or non-English speakers. It simplifies the process of taking notes, recording, and sharing insights.
#4 - Dialpad
Best for people who are looking for effective business communication.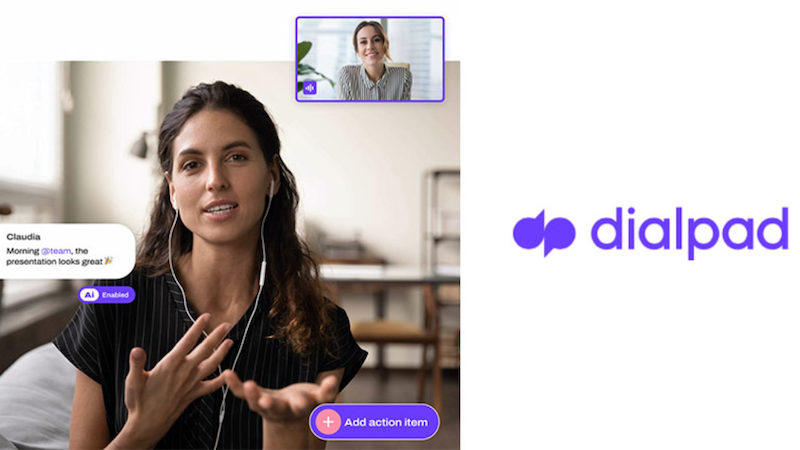 Dialpad is not a direct alternative to Otter.ai as it is not for meeting management. Instead, it is a unified business communication platform, including calls, messaging, meetings, and customer support services. Organizations of all types use Dialpad for effective business communication. 
An outstanding feature that makes Dialpad a worthy alternative to Otter is voice-intelligent technology that allows users to live-transcribe phone calls and virtual meetings. With a single click, users start/stop recording calls and making transcripts. Post-call, these transcripts are available for references and follow-ups with team members and customers.  
Key Features: 
Natural language processing with real-time voice recognition.

Broad integration library with built-in app marketplace.  

Works on all devices, including Mac, Windows PC, iOS, Androids, and web browsers.

Works as a standalone video conferencing tool. 
Cons:
Standard Plan has no customer support via phone call.

Maximum of 10 participants Standard Plan.

Does not work in some countries.
Plans & Pricing:
14-day free trial

Standard-  $15 user/mo ($23 USD if billed monthly)

Pro - $25 user/mo ($35 USD if billed monthly)

Enterprise - contact sales
Supported OS:
Windows

macOS

iOS

Android

Google Chrome

Web-based
Why it's better than Otter.ai:
Dialpad is best suited for businesses that often use phone calls, video meetings, or other communication channels. Transcription is just an add-on feature.
#5 - Vowel
Best for teams to host, summarize, search, and share video meetings.
Vowel is a video conferencing tool for small and mid businesses that want to surmount the limitations of household platforms like Zoom, Google Meets, and Teams.  
While other tools restrict meetings to mere hearing and seeing, Vowel allows users to transcribe, record, and share meeting agendas in one place. It also offers direct emailing via the app for follow-up.
Key Features: 
One-click recording and transcription. 

Create clips and organize them by folder.

Agenda templates are available for various meeting types.

Members can work together on the meeting agenda, and edit and comment on meeting notes.

Meeting analytics available.
Cons:
Not very stable when used on mobile devices. 

Flakey playback of recordings of meetings with multiple participants. 
Plans & Pricing:
Free plan

Business- $19.99 monthly per host

Enterprise- coming soon
Supported OS:
Why it's better than Otter.ai:
Vowel is most suitable for businesses looking for more collaborative and inclusive meetings at an affordable price. Like Otter, Vowel is basically a video conferencing and meeting transcription tool. Teams can delegate tasks, share files, engage in group and private chat, and take minutes of meetings, either audio or video.
#6 - Avoma
Best for managing the entire meeting lifecycle.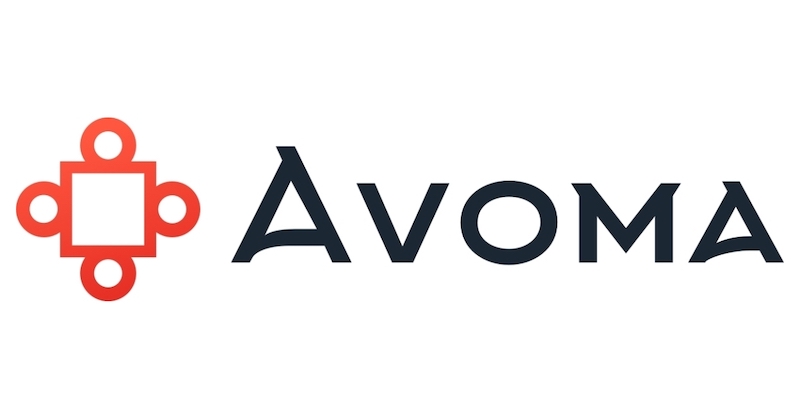 Avoma is a meeting assistant for collaboration, customer success, and engagement management. Businesses use Avoma to analyze sales and support processes and customer interaction. 
Intelligent enough to auto-extract action items, identify objections in speeches, and highlight positive moments and gestures in meeting conversations, Avoma is a business-moving tool.
Key Features: 
Automatically identify topics and speakers.

Advanced transcript search to locate topics and watch recordings fast.

In-depth analytics of calls and meetings.

Integrates with sales engagement platform, CRMs, and video conferencing tools. 
Cons:
A bit expensive

Can be more user-friendly  
Plans & Pricing:
Free - Collaboration & Listening

Starter: $24 monthly per user - Limited AI Meeting Assistant

Plus: $59 monthly per user - Unlimited AI Meeting Assistant

Business: $ 79 monthly per user - Revenue Intelligence

Enterprise: $149 monthly per user - Strategic Partnership
Supported OS:
Why it's better than Otter.ai:
An easier boarding and support program gives it an edge over Otter. Avoma is best for businesses looking to enter new local and international markets.
#7 - Tactiq
Best for a tool that automatically starts transcribing as soon as you start the meeting.
Tactiq is a Chrome extension for live-transcribing Google Meet and Zoom meetings. Primed as a productivity tool, it allows users to get the most out of meetings without getting distracted by bulky add-ons.
Want to take notes, transcribe meetings, highlight action items, and share meeting notes? Tactiq does strictly that and a few more things. 
Key Features: 
Record meetings and get transcripts with speaker identification and timestamps. 

Auto-save meeting notes to Slack, Quip, Notion, and Google Docs. 

Automatically enable captions on the call.
Cons:
Voice capturing and recognition are not fully developed.

Poor customer service.
Plans & Pricing:
Free -10/mo meetings

Pro - $12/mo unlimited meeting plus basic team collaboration 

Team $20/mo unlimited meeting plus advanced team collaboration 
Supported OS:
Why it's better than Otter.ai:
Tactiq is a nice alternative to Otter.ai as it encompasses almost the same features and supports more languages. Although there are a few glitches in transcribing non-native speakers' English.
#8 - Sembly.ai
Best for recognizing custom phrases and jargon.
Sembly AI is a virtual assistant that records, transcribes, and summarizes your meetings. The app ensures everyone has what they need to complete their work quickly and efficiently. It works with all the major meeting platforms, including Meet, Zoom, Teams, and Webex. You can also invite Sembly via syncing your calendar, email, or meeting link, and they'll take care of the rest.
Key Features: 
Extract discussed actions, issues, risks, and requirements.

Analyzes transcripts to pull out important details.

Works with most video conferencing software.
Cons:
Does not always correctly identify who is speaking

Only supports English
Plans & Pricing:
Personal - free

Professional - $10 per month

Team - $15 monthly per user

Enterprise - contact sales for 40+ users
Supported OS:
Why it's better than Otter.ai:
Sembly AI includes additional productivity tools that Otter does not have. Features such as premium consulting and integration with Outlook are a huge perk. It also consists of some of the newest voice recognition technologies. This app uses machine learning to capture vocal nuances, such as sarcasm and urgency, which Otter lacks.
FAQ
1. Is Otter HIPAA Compliant?
Otter is not HIPAA compliant and may share data based on its privacy policy. They have a third-party service that helps it analyze and store data. These services may include personal information. You'll need to look elsewhere if you're looking for a HIPAA-compliant transcription service.
2. How to Select the Right Transcription App
All these apps I have looked at have really cool features that distinguish them from Otter.ai. But the decision on which is a good fit for you and your team is up to you.
However, I have a few pointers on what things you should consider before making your decision. 
On your team end, you should consider your team size and constitution, technical expertise, goals, and budget. 

On the app side, look closely at the interface, features, pricing, language options, customer support, and integrations.
Putting all these into consideration will help you choose what works best for your team. And if what you need is more than live transcription, but a tool that can manage the meeting workflow from plan to action to follow-up, then I would recommend Notta for more productive and enjoyable meetings.
3. What is the Best Transcription App?
There are a few popular transcription apps out there. Notta is the best in accuracy, but it has a few other features that make it stand out. Notta can transcribe the audio in real-time. 
You don't have to wait for the recording to finish before you can start working on it. It offers a variety of language options, so you can use it no matter where you are in the world. It's also affordable, so you don't have to break the bank to get started.
Transcribe Every Word and Detail Accurately
Notta transcribes your audio from any file type. Upload your file now including WAV, MP3, M4A, CAF, and AIFF audio files, and experience effortless multi-format transcription with a single click. 108 transcription languages support.
4. Can I Use Otter.ai for Free?
The free version allows you to upload three audio files and record 300 minutes from a microphone. You'll have to upgrade to the paid version if you need more than that. Luckily, there are plenty of other great options out there that can help you with your needs.
5. Does Otter.ai Work Well?
Otter.ai is a relatively accurate and affordable transcription service. It may work well for individuals who need to transcribe audio files. The app is free for up to 300 minutes of transcription per month. You'll need to pay for a subscription if you want more than that.
Conclusion
Many Otter.ai alternatives can provide you with more options depending on your needs. Some of these services have a free trial, while for others you have to pay to get any files. Each has its own set of features that make it unique.
I recommend starting with Notta to have a benchmark for accurate transcription software. It may surprise you to find that it is the only transcription app you'll ever need.