14 Best Transcription Software in 2023 [Speech to Text]
Imagine sitting for hours trying to transcribe a huge video or video file manually; that must be a daunting task and extremely time-consuming!
Thankfully, technology is changing things, and AI-powered transcription software has come to the rescue, which converts any video or audio recording into text without human labor. In fact, speech-to-text tools have become a must-have for businesses and professionals who want to get the most out of their audio and video content. 
Whether you want your audio/video converted to text for education, journalism, podcast, or other purposes, we've put together the 14 best transcribing software to get the job done efficiently. Read on!
Automatic vs. Manual Transcription: What's the Difference?
Basically, transcription services can be divided into two types:
Automatic transcription

Manual (human) transcription
Automatic transcription adopts AI-based technology called natural language processing (NLP) that converts audio and video files to text automatically. The text can be further edited and shared. The major benefits of using automatic transcription software are fast and cheap. 
Moreover, it usually includes extra features like speaker recognition and time stamps that enable you to review the transcript easily.
Human transcription, however, is completed by trained transcriptionists who listen to the audio recording and then transcribe it manually. Due to this, it takes a longer turnaround time with a higher accuracy rate than automated transcription, though the cost is higher.
The benefits of using automatic transcription software are as follows:
Saves you a lot of time and money.

Improves accessibility.

Eliminates miscommunication.

Quickly review and search content.
What Makes a Great Transcription App?
Before jumping to the list, we'd like to clarify the specific criteria for why each audio transcription software lands in its role as one of the best options available. 
We didn't choose our top picks without serious consideration and below are the standards.
First, the app must have an AI-based transcription system that delivers accurate results. Although errors are common with using transcription software, they should be within a limit.
The lower the accuracy, the more you will need to edit the transcripts, which takes extra time.
The price of transcription software services can range from a few to hundreds of dollars per month. We looked at both extremes to find the best middle ground for businesses with different budgets. 
The transcription software should be able to convert multiple types of video and audio files into text, including the most common ones like MP3, MP4, MOV, WMV, etc.
Versatility also lies in that the software is available on the Web, Android, and iOS devices, so you can access it anywhere you like.
If your information isn't safe, it doesn't matter how accurate the transcription is. So we choose transcription tools that have a good reputation and offer security measures.
Lastly, ease of use is a must since no one wants to waste time trying to figure out how to use a new app. The best transcription software will have an intuitive interface that even first-time users can get the hang of it.
14 Best Transcription Software to Convert Audio to Text
Now that we've explained our criteria for choosing the best transcription software, let's move on and reveal our top 14 picks after multiple hours of researching
Best for real-time transcription and versatility
Notta is AI-powered transcript software that automatically transcribes live recordings from a microphone, audio/video files, webpage audio, and online meetings. It has a well-designed interface that you can navigate through easily when using it for the first time.
Once the transcription is complete, this tool allows you to search for keywords, edit the text, insert images, and share the transcripts.
What makes Notta unique is that it links the transcript to the original audio and adds timestamps that make getting to any information much more straightforward.
What's better, Notta supports over 100 languages, making it one of the most versatile transcription tools on the market.
Pros:
Automated video and audio transcription

Up to 97% transcription accuracy

Accessible on desktop, mobile (Android and iOS), and Chrome extension

Export a transcript to various formats like DOCX, TXT, PDF, and SRT

Powerful search, editing, and sharing capabilities

Sync your transcripts across all your devices

SOC 2 and GDPR compliance for data safety
Cons:
The free version has a time limit per transcription.
Pricing:
Basic: $0 for 120 transcription minutes (it limits the transcription duration per recording to 3 or 5 minutes)

Pro: $8.25 per month for 1,800 transcription minutes

Team: Varied by transcription minutes

Enterprise: custom pricing
With Notta, you get a solid option for transcribing video and audio and keeping them organized across all your devices. Try Notta to see how much it frees your hand while more positively engaging in online classes, presentations, and meetings.
Best for platform integrations
Descript is essentially a video and audio editing software that comes with transcription features.
It offers automatic audio transcription in 23 languages and has up to 80% accuracy. But if you demand perfection, go for its professional transcriptionists who assure 99% accuracy.
With Descript, you can transcribe audio files and then edit the transcriptions right in the software. The software works well for podcasters and YouTubers because it allows you to easily edit and format your transcriptions to place on blog posts. You can also use Descript to create subtitles for your videos or caption files for your audio. 
Pros:
Automatic and human transcription 

Remove filler words from transcripts

Sync the files across platforms

Integrate with YouTube, Vimeo, and other video hosting platforms 
Cons:
Its accuracy went down significantly when transcribing speakers with accents or speech impediments.

Transcription in languages other than English is not very good.
Pricing:
Free plan with 1 transcription hour per month

Creator: $12/use/month for 10 transcription hours

Pro: $24/user/month for unlimited features

Enterprise: Contact for custom pricing
If you are a content creator who records videos or podcasts, Descript is an excellent tool to transcribe your audio files and then easily edit the transcriptions. The software also offers screen recording and webcam recording options. 
Best for fast turnaround with per-minute rates
Being one of the most renowned transcription services in the market, Rev provides accurate video/audio transcripts, on-screen captions, and translated subtitles powered by AI.
This service is pretty straightforward to use. With Rev, you can upload lectures, interviews, podcast episodes, or meeting recordings and receive a written transcript quickly. The transcriptions are ~90% accurate.
You'll need clear, high-quality audio with no background noise for a quality transcript. If the audio quality is shoddy, you may do better off hiring one of their human transcriptionists.
Pros:
Human and automated transcription

Fast turnaround time

Supports up to 31 transcription languages, including English, French, German, Spanish, Arabic, and more.

The interactive editor makes it easy to make corrections.
Cons:
Sometimes miss brand or technical terms

Slow customer support 
Pricing:
Rev offers a subscription plan with 20 automated transcriptions and captioning per month at a flat rate of $29.99, which is best for professionals who use a transcription service regularly.
If you only need to transcribe a file occasionally, a non-subscription charge based on time is more suitable: 
Audio & video human transcription: $1.50 per minute

Automated transcription: $0.25 per minute
Rev is a versatile tool when you need transcripts of your audio and video files. Trusted by Turner Classic Movies, CBS, Viacom, PBS, Spotify, and Stanford, it's well worth it to give Rev a try when you want to test human transcriptions aided by artificial technology.
Best for fast and relatively accurate transcription
Happyscribe is one of the best transcription software in the market that offers fast and accurate transcription and subtitle services via artificial intelligence technology. 
By the time of writing this article, this tool offers automatic transcription in 60+ languages (up to 85% accuracy) and human-made transcription in 10 languages (99% accuracy).
Happy Scribe is pretty easy to use. Simply upload the files, select your language, and it will start processing. You'll have a full transcript at half-time of the audio length, e.g., it takes 5 minutes to transcribe a 10-minute file.
Happy Scribe also has an interactive editor that allows you to edit and manage the text freely. Students, professionals, and busy people who need to transcribe audio files for work or school will enjoy using the tool.
Pros:
Automatic and human transcription 

Add captions to videos

Support audio files of any size and length

Export your file to TXT, PDF, SRT, Word, STL, VTT, and more

Sync audio and video with timestamps
Pricing:
For automated transcription: starting from $10 per month (billed annually) for 120 minutes.

For human transcription: starting from $1.75 per minute
You can choose to use its automated software to get your transcription work completed or hire Happyscribe's human transcribers to create more accurate transcripts. 
Best for collaborating on transcriptions with team members
Founded in 2016, Otter is a reputable transcription software that can transcribe pre-recorded video and audio files to text, including interviews, lectures, and podcasts.
It has a web app, a mobile app for iOS and Android, and a Chrome extension so that you can access it almost anywhere.
Otter also has an assistant that will join virtual meetings and record and transcribe the voice conversations in real-time. With this tool, you can review, edit, and manage the transcriptions directly in the app.
Pros:
Intuitive interface

Automatically transcribe online meetings and recorded files

Rich editing features
Cons: 
Only supports English (U.S. and U.K.)

Not able to handle background noise and accents well
Pricing:
Basic: offers 300 monthly transcription minutes for free

Pro: $16.99 per month with 1,200 monthly transcription minutes

Business: $30/user/month with 6,000 monthly transcription minutes

Enterprise: custom pricing
If you're a faculty member at a school, a student, or a staff member inside a nonprofit, you can receive discounts from Otter on its plans. 
Check the comprehensive Otter review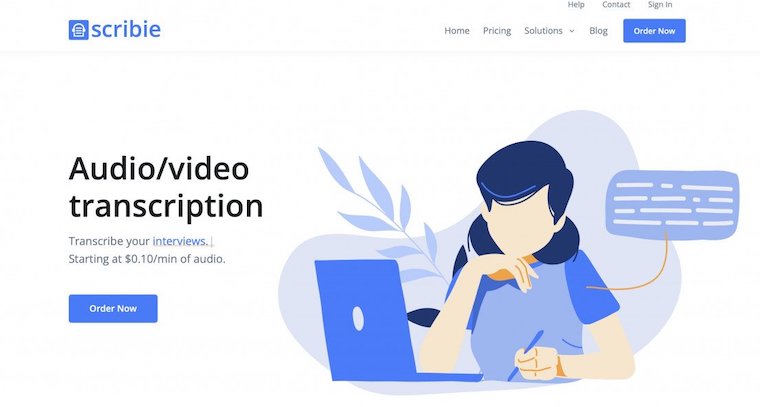 Scribie is a nice option for those who need to transcribe audio files regularly. While it doesn't have as many features as the ones we introduced above, Scribie does offer accurate transcription with a simple 4-step process (transcribe, review, proofread, and quality check) and its price might be the lowest in the current market.
Scribie claims to transcribe files quickly and efficiently with 80%-95% accuracy for its automatic transcription service, and the rate can be up to 99% in manual.
Pros:
Automatic and manual transcription

Online transcript editor

Fast turnaround time

All transcribers are under NDA

Affordable price
Cons: 
Only supports English

Doesn't have a mobile app

< 60% accuracy for noisy/poor audio
Pricing: 
Automated: $0.10 per minute 

Manual: $0.80 per minute

Pro Subscription: $9 per month
Due to its flexible pricing plans, Scribie is an excellent choice for either individuals or businesses who need a large volume of transcription and don't care for advanced editing and sharing features.
Trint is an AI-powered tool that offers automated transcriptions of your audio and video files. You can either capture the content with live transcription or upload the existing files and get it transcribed. 
After getting the transcript file, you can search, edit, and collaborate with others, maximizing the value of your video or audio content. Besides, Trint can generate closed captions for your video that are accessible to everyone.
Pros:
Automated transcription powered by artificial intelligence

Transcribe content in 30+ languages and translate the transcripts in 50+ languages

Powerful editing and collaboration

ISO-certified security
Cons:
The transcription is not accurate enough with complex files

Expensive
Pricing:
Trint offers subscription plans monthly or manually.
Starter: $48/user/month for 7 transcriptions

Advanced: $60/user/month for unlimited transcription

Enterprise: Contact for pricing

Amberscript, being one of the best video transcription software, provides audio and video to text transcription with fast turnaround time by combining artificial and human intelligence. 
This tool supports machine-made transcription in 39 languages and manual transcription (with a claim of up to 100% accuracy) in 15 languages.
What's more, you can try Amberscript for free to ensure that you like either its automatic software solution or its manual transcription services before committing to one of its paid plans.
Pros:
A hybrid of automatic and manual transcription services

Edit, search through, and export transcription files

GDPR-compliant for data security
Cons: 
Its accuracy for automatic transcription is not high

Takes time to do the final editing
Pricing: 
Pre-paid: $8 per one hour of uploaded audio or video

Subscription model: $32 per month for 5 automatic transcription hours

Manual transcription: $1.25 per minute
Sonix is another AI-powered platform that makes it easy to convert audio and video files in over 35 languages.
With Sonix, you can transcribe meetings, lectures, interviews, and any kind of audio or video. You can focus on reading the content later instead of scrolling through hours of audio. Plus, you are able to search through, edit, organize, and share the transcript with teams afterward.
Sonix's integrations with popular productivity tools like YouTube, Zoom, and Zapier will make your workflow easier.
Pros:
Automated transcription, translation, and subtitles

In-app media player

Collaboration with teams

Enterprise-grade security
Cons: 
Doesn't offer a mobile app
Pricing: 
Standard: $10 per hour

Premium: $22/user/month + $5 per hour

Enterprise: Contact for pricing
Sonix isn't the best transcription software for you if you're a student or casual user. The per-hour rates can add up quickly. You also might not be able to get the most accurate transcriptions unless you're willing to pay a bit more. However, it may be worth considering if you are a professional who needs to transcribe in bulk.
Audext is an online transcription tool that converts audio files to text using both professional and automatic transcriptions. 
Timestamping and speaker identification are included in the transcript to help you go through the text quickly. Audext supports the most common audio and video formats like MP3, M4A, WAV, and others.
It also features a text editor that you can use to correct any errors that the AI may have made. You can highlight the word during playback, making it easier to follow along and understand what you said.
Pros:
Works for over 60 languages in automatic transcription

Identify speakers in your recordings

Built-in editor

Ensures data privacy
Cons: 
The software will sometimes freeze and need to be reset

Takes a longer transcription time
Pricing: 
Automatic transcription at $5/hour while manual one costs $1.2 per minute

Subscription: $30 per month for 2 transcription hours

Enterprise: Contact for pricing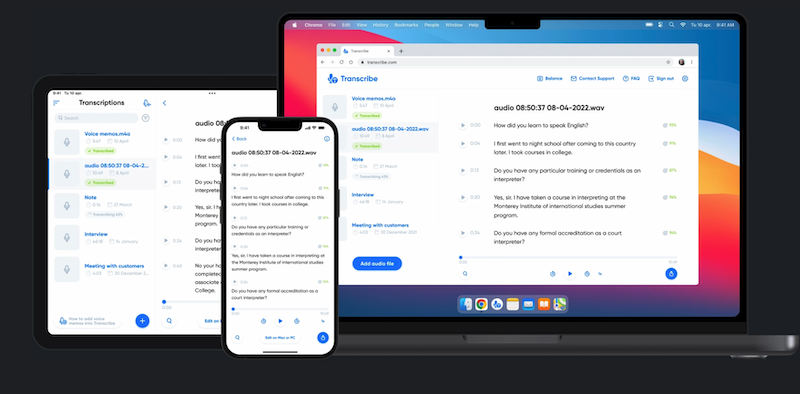 Transcribe gives you valuable speech-to-text service using AI-powered automatic transcription in more than 120 languages. 
You can record the conversations in real-time or simply upload the recorded files to get a transcript. This tool will convert videos, interviews, audio notes, phone calls, speeches, lectures, and podcasts into text quickly and accurately. 
The Transcribe software is a nice option for podcasters, journalists, and businesses who need to get the most out of media content and save time.
Pros:
Works offline without an Internet connection

Supports various formats like mp3, m4a, wav, m4v, mp4, mov and avi.

Export transcribed text with timestamps

Integration with Zoom
Cons: 
Pricing: 
Free for a 15-minute trial

Pro: $99.9 to enjoy all features
Trusted by the World Bank, Time, Lyft, Adobe, Groupon, PayPal, Pepsi, and VISA, Transcribe gives you a transcription solution that doesn't break the bank. Use it for unlimited voice typing to transcribe your next podcast interview or Zoom team meeting. 
Best for cheap pay-per-minute rates
If you're looking for speech-to-text software that transcribes audio and video files efficiently using AI technology, Temi is the way to go. It claims a 90% - 95% accuracy rate on condition that the audios are with little background noise and minimal accents.
The software is easy to use: import the files from your desktop and it will start transcribing immediately.
Temi offers accurate speaker recognition so that you know who says what clearly. Moreover, it has a free transcript editor that allows you to edit the final transcript online if you find any errors.
Pros:
Support all file types

Download transcripts in PDF, Word, VTT, and SRT format
Add timestamps

The editor adjusts playback speed and allows for skipping through transcripts
Cons: 
Only supports English

The software isn't always accurate and can be a bit slow
Pricing: 
Base rate of $0.25 per minute
Be careful about sending files to the software where the first 10 minutes consist of greetings and general chit-chat. Otherwise, you'll waste money paying for the per-minute charge. Overall, Temi is a nice option for anyone needing a less expensive transcription service.
If you occasionally transcribe files and don't need advanced features such as collaboration and sharing, oTranscribe is the free online transcription tool that meets your needs. It's an open-source, web-based platform where you upload audio or video and start transcription manually.
But one thing that should be noted is that this tool doesn't offer automatic transcription but is designed to make manual transcription less painful.
Pros:
Pause, fast-forward, and rewind files from a simple dashboard

Interactive timestamps

Integrated video player

Export transcripts via text, Markdown, and Google Docs
Cons: 
No available customer support

No automatic transcription

No security promise. We suggest using it to transcribe public or semi-public information.
Pricing: 
oTranscribe provides a limited transcription experience. It's the one solution on our list that offers the least amount of bells and whistles. It's a good option for anyone who is not ready to invest in paid software and needs to transcribe files every once in a while.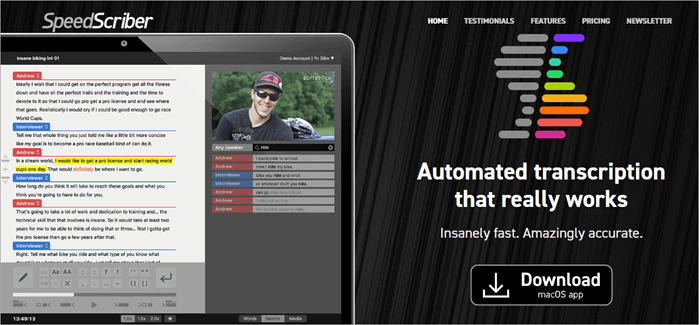 Closing our list of the best transcription software is SpeedScriber, and it's the best for Mac users because it can import files from Finder or clips from Apple Final Cut Pro X. It will transcribe a one-hour file in less than 10 minutes.
The interface is user-friendly, and you can easily find and review sections of the audio immediately upon the software completing its task. With its built-in editing, you can also make changes to words wherever you want.
Pros:
Automatically create timestamps as you transcribe 

Export transcripts to TXT, PDF, Avid DS, SRT, and other formats

Supports languages like French, Spanish, English, German, and Dutch

Integration with Apple Final Cut Pro X, Adobe Premiere Pro, and Avid Media Composer.
Cons: 
Only available for macOS devices

Can't log in from the web (download required)
Pricing: 
15 free minutes after creating an account

Up to 120 minutes: $0.50 per minute

300 minutes: $0.47 per minute

600 minutes: $0.45 per minute

1500 minutes: $0.42 per minute
With limited features and platforms, SpeedScriber offers a relatively lower price. If you are a Mac user, be sure to give it a try.
FAQs about Speech-to-text Transcription
1. What is the easiest way to transcribe audio to text?
The easiest way is to use AI-powered software that can transcribe with high accuracy. One of the best transcription apps is Notta, which offers both real-time and file-import transcription.
2. How long does it take to transcribe an hour-long audio manually?
It takes about four hours to transcribe one hour of audio manually. It can vary depending on the quality of the recording, the number of speakers, and how fast you type. Suppose you're transcribing a speech with clear audio, for example. You might be able to get through it more quickly than if you were transcribing a court hearing with multiple speakers.
We all know how frustrating it can be to try and transcribe something from a recording. You might think you have everything down, but when you listen to the recording, you realize you missed a lot. The best thing you can do is practice your skills by listening to the same material repeatedly. It takes time, patience, dedication, discipline, and diligence.
Buying guide: the best transcription apps of 2023
AI transcription is one of the most valuable technology in this century, which saves us a lot of time and maximize the value of content by making it easier to transcribe audio and video files. 
We have researched and reviewed over 20 transcription software and chosen 14 top ones. Below is a conclusion of the best transcription software, and you can choose the one that suits your needs:
Best for automatic transcription: Trint, Sonix, Notta

Best for accuracy with human transcription: Rev, Descript, Amberscript, Happyscribe

Best for price: Scribie

Best for self-transcription: oTranscribe