10 Best Fireflies.ai Alternatives for Automated Notes in 2023
Fireflies.ai is undoubtedly a decent AI meeting tool for taking automated meeting notes and facilitating collaboration with team members. 
But as soon as you sign up, you may start feeling that the interface is confusing and that it doesn't satisfy your needs. If you've been considering a Fireflies.ai alternative, you've come to the right place. 
We understand how hard it can be to select an alternative that ticks all your boxes, and you certainly do not want to waste your time testing scores of similar products in the market. So, we have decided to take that burden off of you.
After a week of testing, we finally picked out the 10 best Fireflies.ai alternatives to narrow down your options.
Fireflies.ai Overview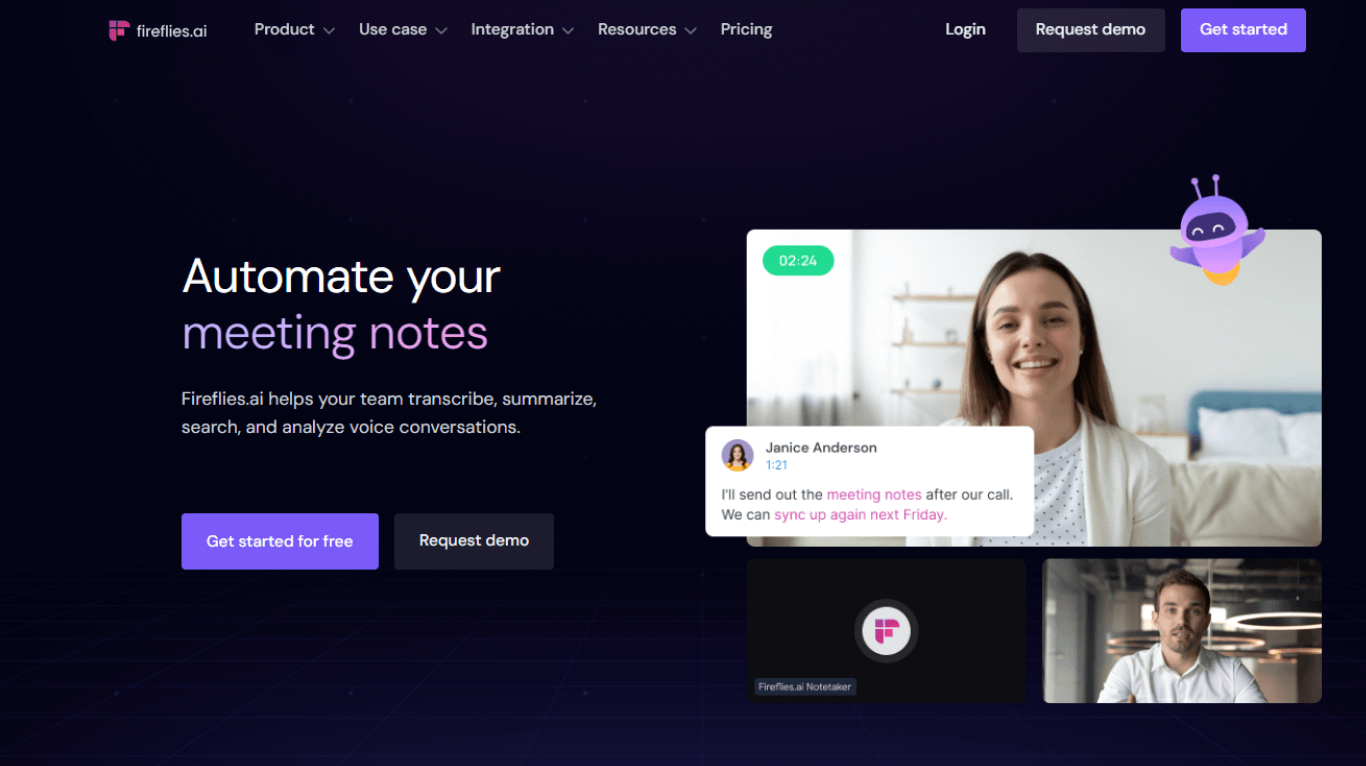 Fireflies.ai is an AI-powered tool that can transcribe, summarize, search, and analyze voice conversations across various video-conferencing apps and dialers, including Zoom, Google Meet, Microsoft Teams, and RingCentral.
In addition to generating meeting records, it uses conversation intelligence to analyze metrics such as topic trends, speaker talk time, and sentiments. These insights help teams run better meetings and make data-driven decisions. 
Fireflies pricing
Fireflies offers a free trial for individuals starting out, with 800 mins of storage. It also has several paid plans catering to your needs:
Pro Plan - $18 per seat monthly with 8,000 mins of storage.

Business Plan - $29 per seat monthly with unlimited storage

Enterprise Plan - Custom pricing billed annually 
With so much to offer — coupled with different paid plans and packages — it's no wonder Fireflies.ai feels like a great tool. But the tool doesn't come without limitations.
Why you might need a Fireflies alternative?
By my authentic test of the tool and searching through user reviews, the most common reasons customers require a Fireflies alternative include:
Not-satisfying user experience: For one thing, users are left to explore the product by themselves without much onboarding guidance. For the other, Fireflies is not as intuitive and easy to use as many of its alternatives. According to some reviews on G2, this is a major con using Fireflies.ai.

No live transcription: Fireflies only has transcriptions available after the meeting. Instead, other alternatives like Notta allow users to access the transcript in real-time and bookmark important information.

Slow processing: Fireflies.ai can be a bit slow in processing meeting transcripts—10 minutes at least and may be up to an hour, which is frustrating.
What Makes a Good Alternative to Fireflies.ai?
Ideally, a Fireflies.ai alternative should not only overcome the shortcomings of the tool but should also offer something more. I have tested the tools based on the same criteria to see how they compare and contrast. 
Automatic note-taking: Fireflies.ai says, 'Automate your meeting notes,' so it's the most important task. While evaluating the apps, make sure they can automate note-taking processes with high accuracy during online meetings. 
Easy collaboration: Team collaboration is the key to a successful and productive meeting. Therefore, look for a tool that lets you create to-do lists, leave comments on transcripts, mention co-workers, and share meeting notes or clips in a click. 
User-friendly interface: Pay attention to the user interface, including how easy it is to navigate and use the tool, and how the features help to automate workflows and available support. 
All-in-one potential: At last, the Fireflies.ai alternatives should be capable of reliably transcribing and summarizing all the information in one place — without requiring you to connect loads of third-party apps. 
The 10 Best Fireflies.ai Alternatives 
On the surface, these AI meeting tools do more or less the same thing — they convert speech to text, but the extra features coming with transcription are where the main difference lies. Keep reading through the options to notice how these Fireflies.ai alternatives can help you during online meetings. 
#1 Notta
Best for auto-join and transcribing meetings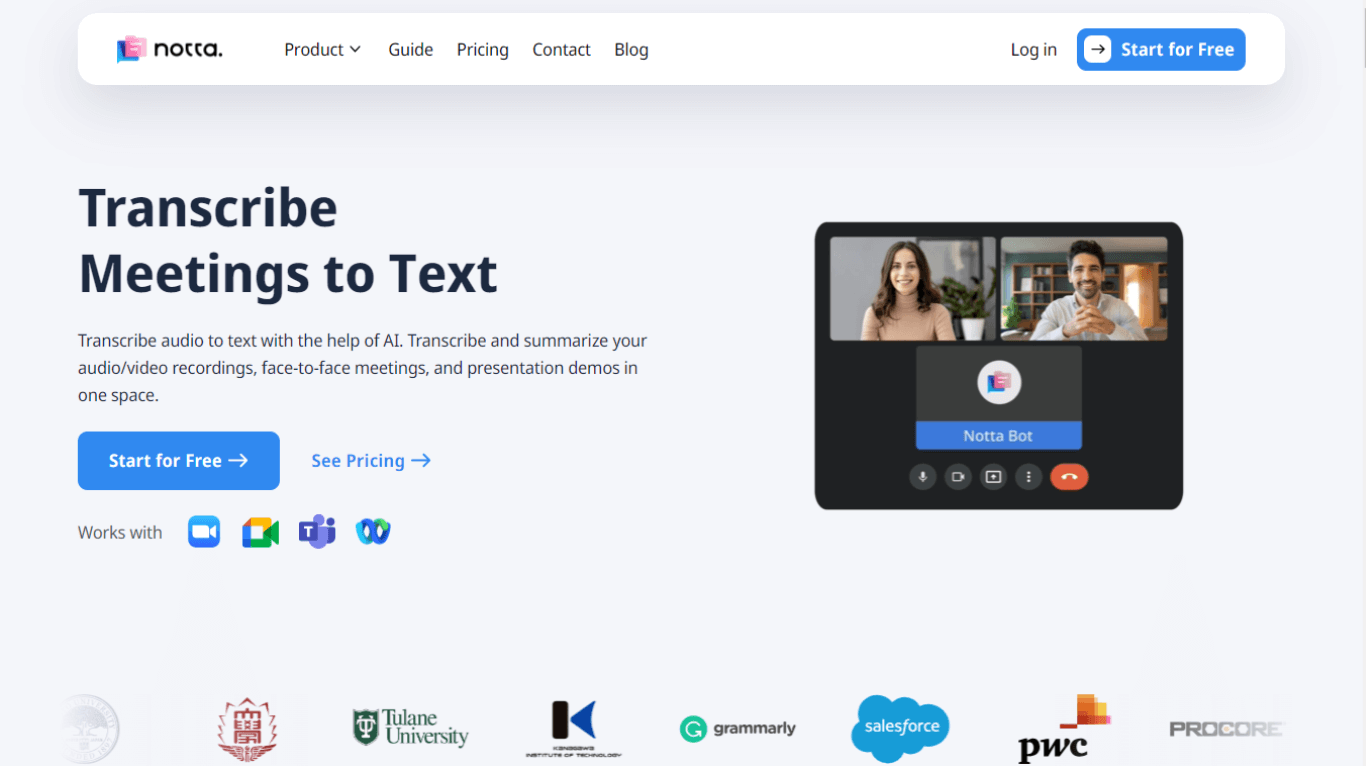 Notta is one of the biggest names in the AI transcription space and a feature-rich Fireflies.ai alternative. If you want an all-in-one AI meeting assistant tool that can record, transcribe, and even summarize with high accuracy, Notta is the ideal tool. 
When you integrate Notta with popular web conferencing platforms (like Zoom, Google Meet, Webex, and Microsoft Teams), it automatically joins the meetings and transcribes everything. Later, you can use the AI Summary Generator to summarize the content in a few paragraphs, action items, and highlights. 
You can also install the Notta mobile app on your phone to record and transcribe meetings or calls on the go. If you have pre-recorded audio or video files of meetings, directly upload them on a Notta, and it will start turning voice to text. 
Key Features 
Live transcription: Notta generates real-time transcriptions, and thus, enables users to access, view, and highlight the meeting transcript while the meeting is ongoing. 

Shareable meeting clips: You can share only the most important information by extracting a one-minute video highlight from a meeting recording without additional editing software.

Syncs with Calendar: Notta syncs well with Google and Outlook Calendar to see the upcoming meetings directly on the dashboard.

Auto-join: Having two meetings at the same time? You can set the Notta bot to join a live meeting and record the conversations for later review. 
Pros 
Notta is a highly intuitive and user-friendly transcription tool ideal for beginners and professionals alike. 

It can transcribe live or pre-recorded meetings. 

Notta has a Web, Android, and iOS app, so you can access it anywhere.
Cons 
The Free plan has time limit per meeting.

No conversation analysis.
Pricing 
Free Plan: $0

Pro Plan: $13.99 per user per month 

Business Plan: $59 per two users per month 

Enterprise Plan: Contact Sales 
Record and Transcribe
Online Meetings

with Notta

Notta is a powerful meeting assistant that can help transcribe virtual meetings in real time and convert meeting recordings in seconds.
#2 Fathom
Best free AI meeting assistant for personal use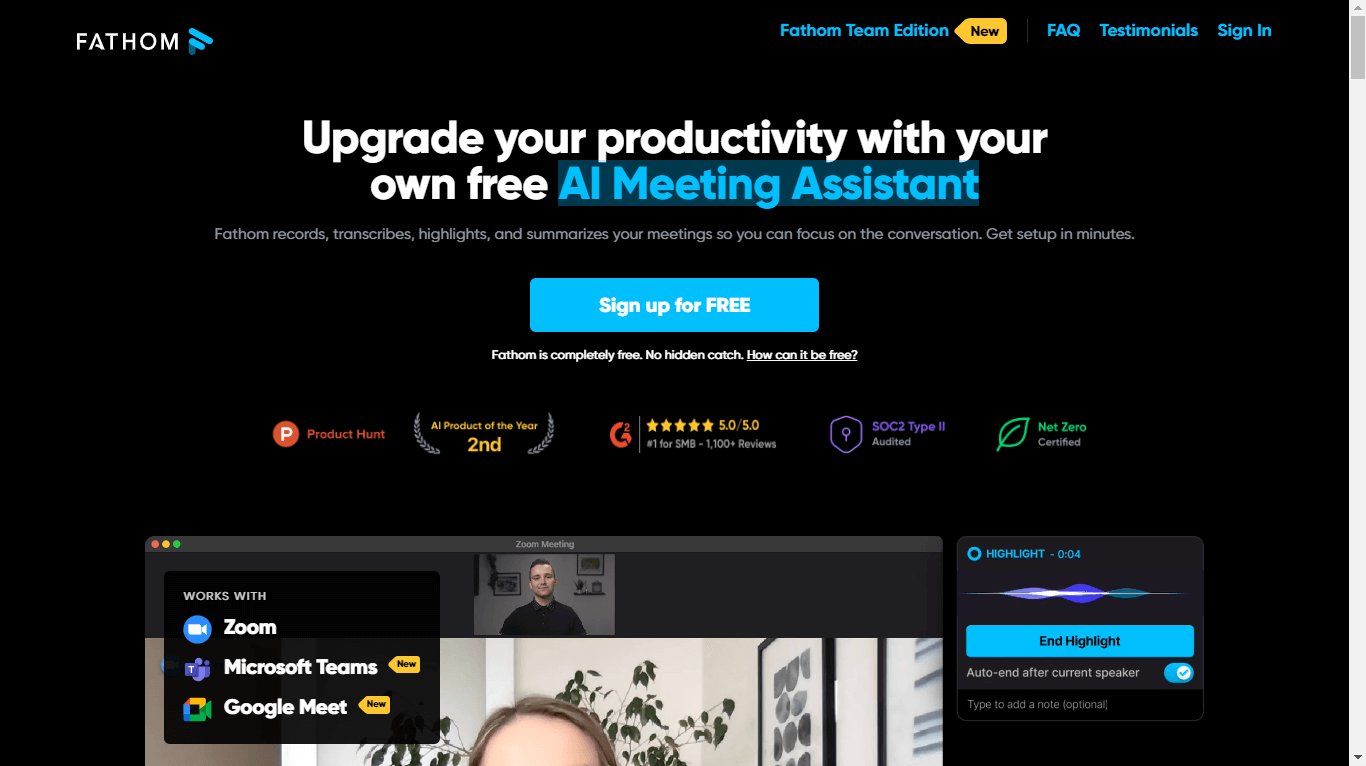 While looking for some free AI meeting assistant tools, I came across Fathom, and the first thing I read on their landing page was that it's completely free for personal use. 
The generous freemium plan will let you transcribe all your meetings for free — and even generate a meeting summary. Now it supports Zoom, Google Meet, and Microsoft Teams.
Fathom's paid Team plan helps you organize meetings in a Team Calls tab and see meeting statistics for each member — which is quite useful, especially for sales call coaching. 
Key Features 
Supports 7 languages: Fathom supports seven languages, including English, Spanish, German, Italian, Portuguese, and French. 

Instant access: Whenever the meeting or call ends, you get quick access to call recording, transcription, and highlight moments. 

CRM Integrations: Fathom can be integrated with HubSpot, Salesforce, Slack, and Close.io to sync your data seamlessly.

Meeting summary: The tool creates summaries of meeting conversations using AI, emphasizing the highlighted moments.
Pros
Completely free for personal use.

It automatically generates and syncs call notes directly to your CRM. 

You can copy and paste perfectly formatted summaries and action items to Task Manager, Google Docs, or Gmail. 
Cons
The user interface might be a little clunky for users. 

Users might need to join the waitlist to sign up for a free account.

It typically requires a software download to set up.

Slow customer support.
Pricing 
Free Forever Plan 

Fathom Team Edition: $19 per user with a 14-day free trial 
Best for taking voice notes and AI chat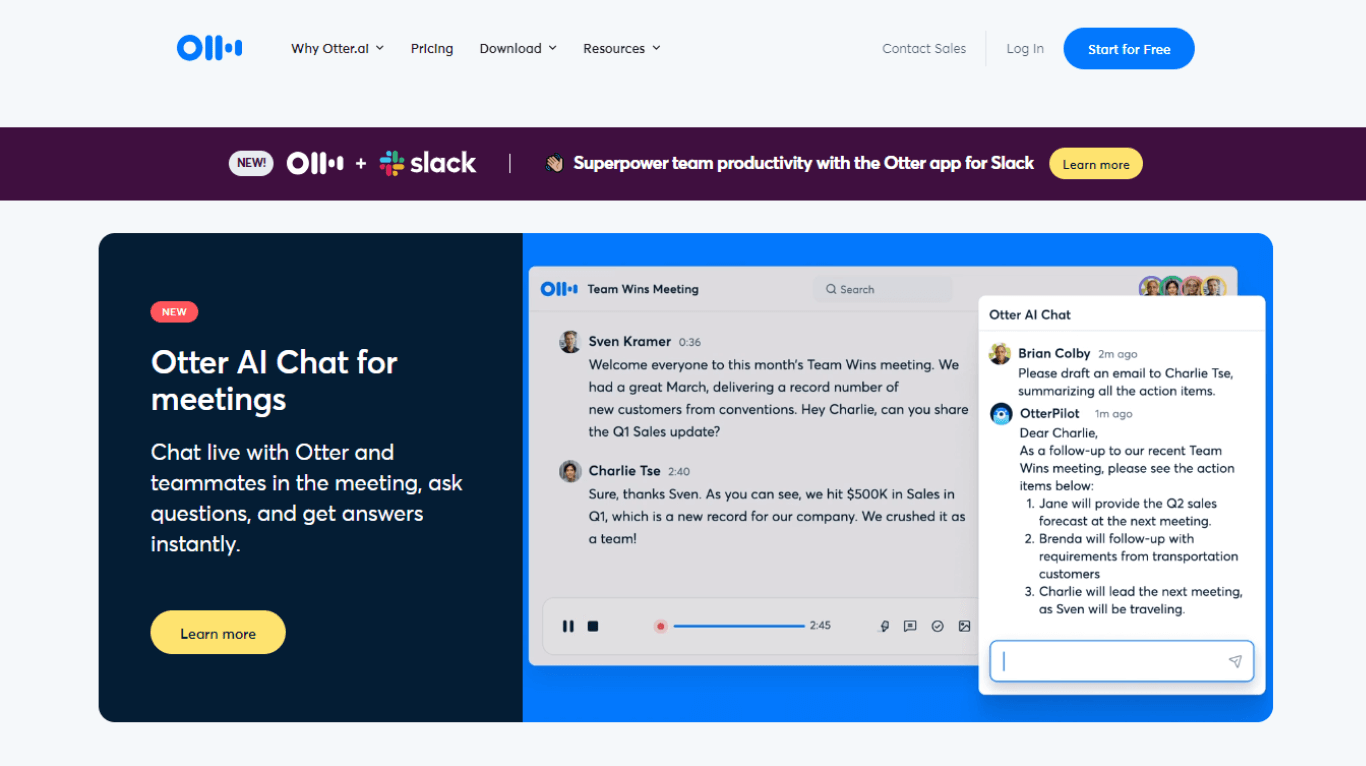 Otter.ai is a pretty well-known name in the AI meeting notes market and is a solid Fireflies.ai alternative. If you'd ask me to choose between the two, I would recommend Fireflies.ai for more rich features and Otter.ai for quick transcription. See the details about Otter vs. Fireflies.
When I tried the Otter meeting transcription app, I found it much quicker (the meeting transcription was instantly available after the call), and the AI summary was more skimmable. If you don't care about AI insights or are more focused on converting voice to text, Otter might be a better choice for you. 
Key Features 
Live Transcription: With the help of Otter Bot, you can transcribe calls, interviews, podcasts, and more in real-time. 

Custom Vocabulary: You can add specific words related to an industry or company to help Otter transcribe meetings accurately. 

Playback Speeds: Otter lets you play the recordings at speeds from 0.5x to 3x — but it is not available in the free basic plan. 
Pros 
Otter can take voice notes and transcribe them in real-time — something which is not possible in Fireflies.ai. 

It also includes timestamps, edits, highlights, and transcription services. 

You can also search transcripts by keyword. 
Cons 
Otter does not have an AI sentiment analysis (a feature available in Fireflies.ai). 

The meeting transcriptions are currently available only in English. 

Sometimes, the speaker identification feature makes mistakes. 
Pricing 
Otter has four pricing tiers:
A free plan with 300 monthly transcription minutes.

Pro plan for individuals at $10 per user for 1200 transcription minutes per month.

Business plan at $20 per user for 6000 transcription minutes per month.

Enterprise plan with custom pricing.
#4 Avoma
Best for all-in-one meeting service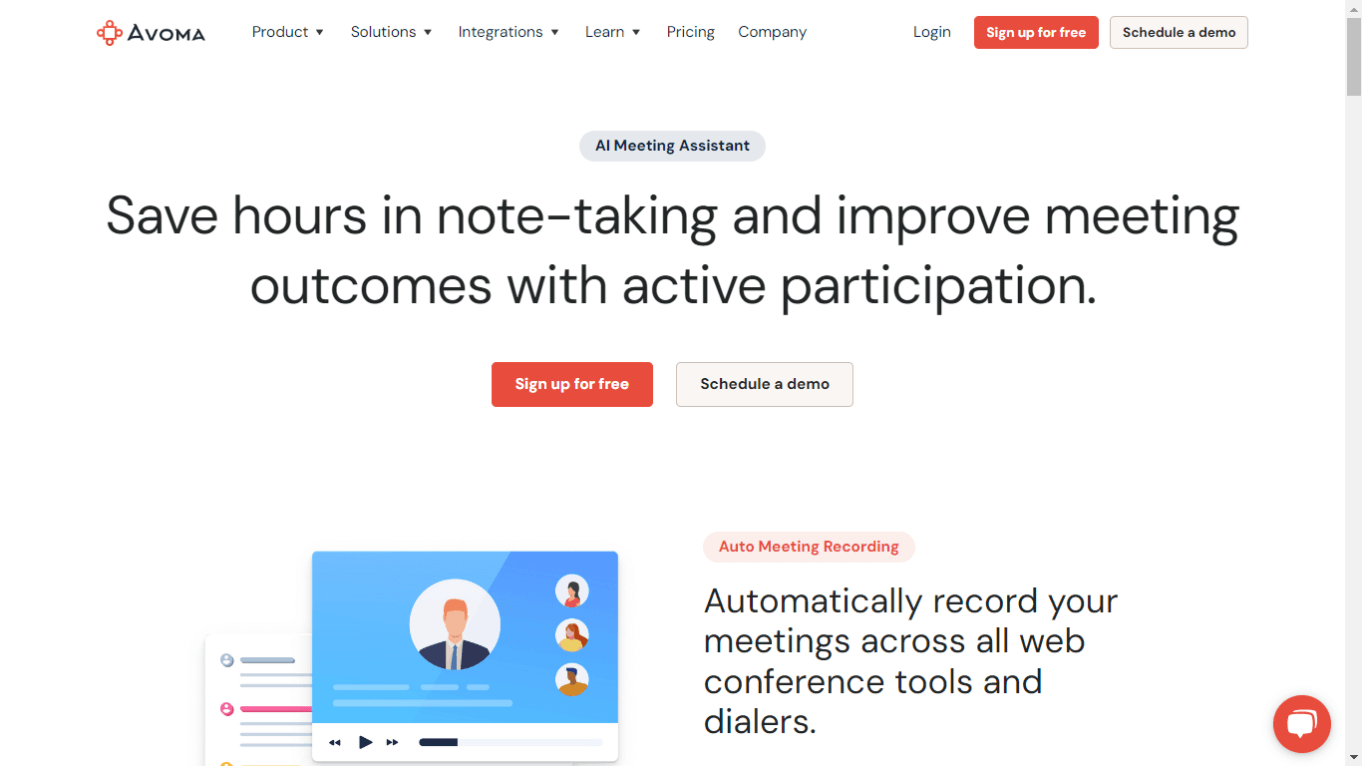 Avoma is a great AI meeting assistant that covers almost every aspect of the meeting, from scheduling, creating meeting agendas, and taking automated notes, to post-meeting analysis.
It is best known for its conversation analytics features. While most of the other tools are inclined towards transcribing meetings, Avoma takes things up a notch by extracting the underlying information from each meeting to help you make an informed decision.
Nevertheless, this tool targets small and medium-sized businesses, not individuals. So if your job involves UX interviews, sales calls, or customer meetings, Avoma might make more sense.
Key Features 
AI-generated notes and summaries: Avoma uses artificial intelligence to generate detailed meeting notes and summaries that can be accessed after the meeting.

CRM Integrations: Avoma offers a bunch of native integrations with Salesforce, Copper, HubSpot, and Pipedrive. 

Collaborative note-taking: It allows team members in a digital workspace to take notes simultaneously

Competitive tracking tool: It's a great feature where you can analyze how your company stacks up versus competitors mentioned by the customers. It also tracks every mention and whether you'll lose or win deals to quickly correlate the information and make necessary adjustments.
Pros 
Avoma can track filler words like ah, uh, and um, so you can save time from editing lengthy transcripts. 

With the help of a topic-tracking feature, you can analyze what people talk about the most, along with keywords. 

The dashboard lets you track conversations everyone is having to help managers make better decisions. 
Cons 
The starter price of Avoma is relatively pricey compared to other AI tools.

Cannot sign up with a personal email.

Some users say Avoma takes a bit longer before entering the meeting. 
Pricing 
Avoma has a Basic plan for free for users to access its basic features. 
Its paid plan starts at $24 per user monthly and all the way to an Enterprise plan for $149 per user monthly.
#5 Gong
Best for call analysis for sales teams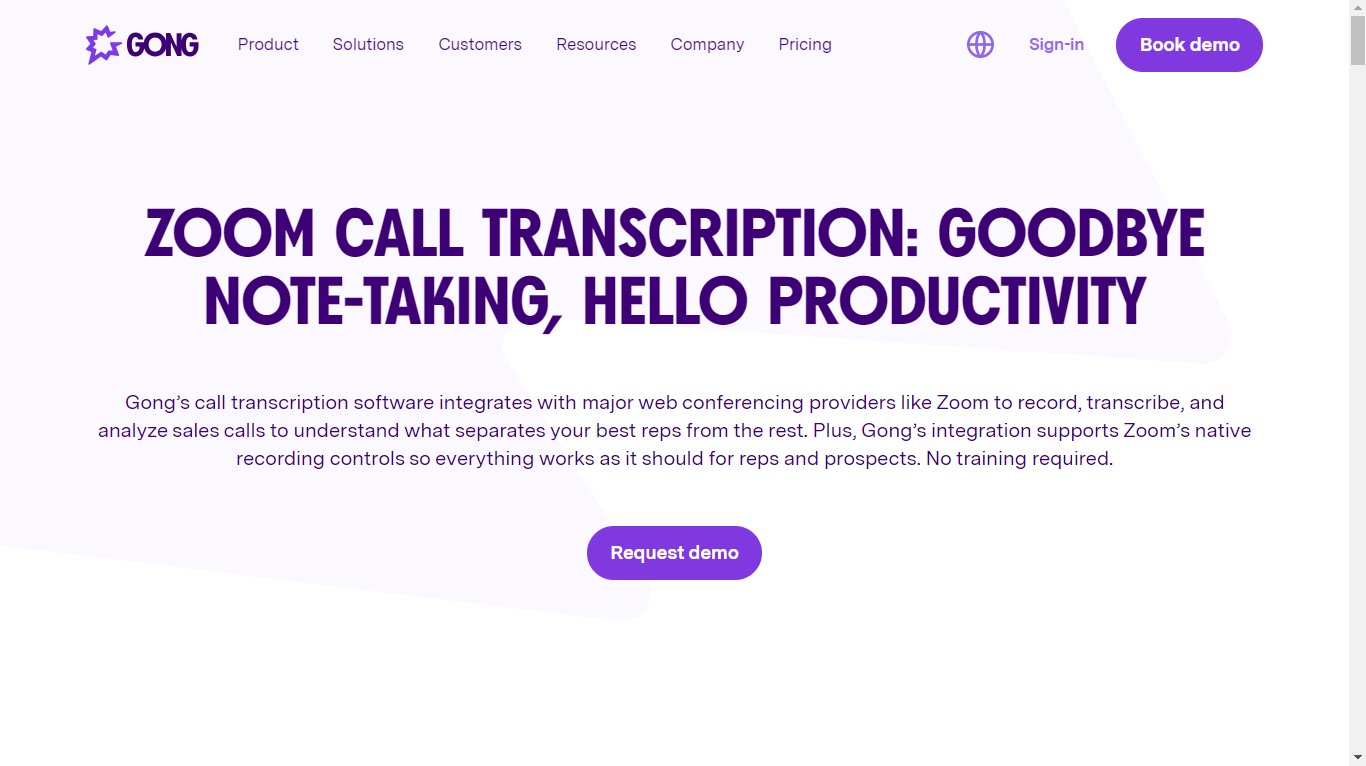 Gong is a Fireflies.ai alternative that is specifically designed to transcribe calls and analyze client interactions to identify opportunities for improvement. 
It then offers recommendations for how to improve sales pitches and overall client interactions so that teams can improve decision-making and increase revenue efficiency.
Key Features 
Quick market insights: Gong's AI surfaces indicators to define how the market will react to your product and features to make launches successful. 

CRM integrations: Gong offers integrations with popular CRM tools like Salesforce, Hubspot, and Klue.

Searchable calls: With Gong, you can search critical information and notes across the entire team's web conferencing calls, emails, or phone calls. 

Real-time deal alerts: Gong provides quick information related to pricing conversations, late-stage competitor mentions, etc., to detect risks hidden in the deals. 
Pros 
Gong automatically syncs with the CRM of your choice to keep data stored safely. 

It also works as a Revenue Intelligence platform to offer critical insights from the meeting using AI and machine learning. 

You can book a demo to see Gong in action and how it can help you. 
Cons 
There is no free plan available to test the AI tool. 

The onboarding process might seem challenging to some users. 

It is mainly focused on the sales team. 
Pricing 
Gong offers a personalized pricing plan based on team size and use case. There's also a platform fee, which mainly varies depending on the number of users supported. 
#6 Grain
Best for creating meeting clips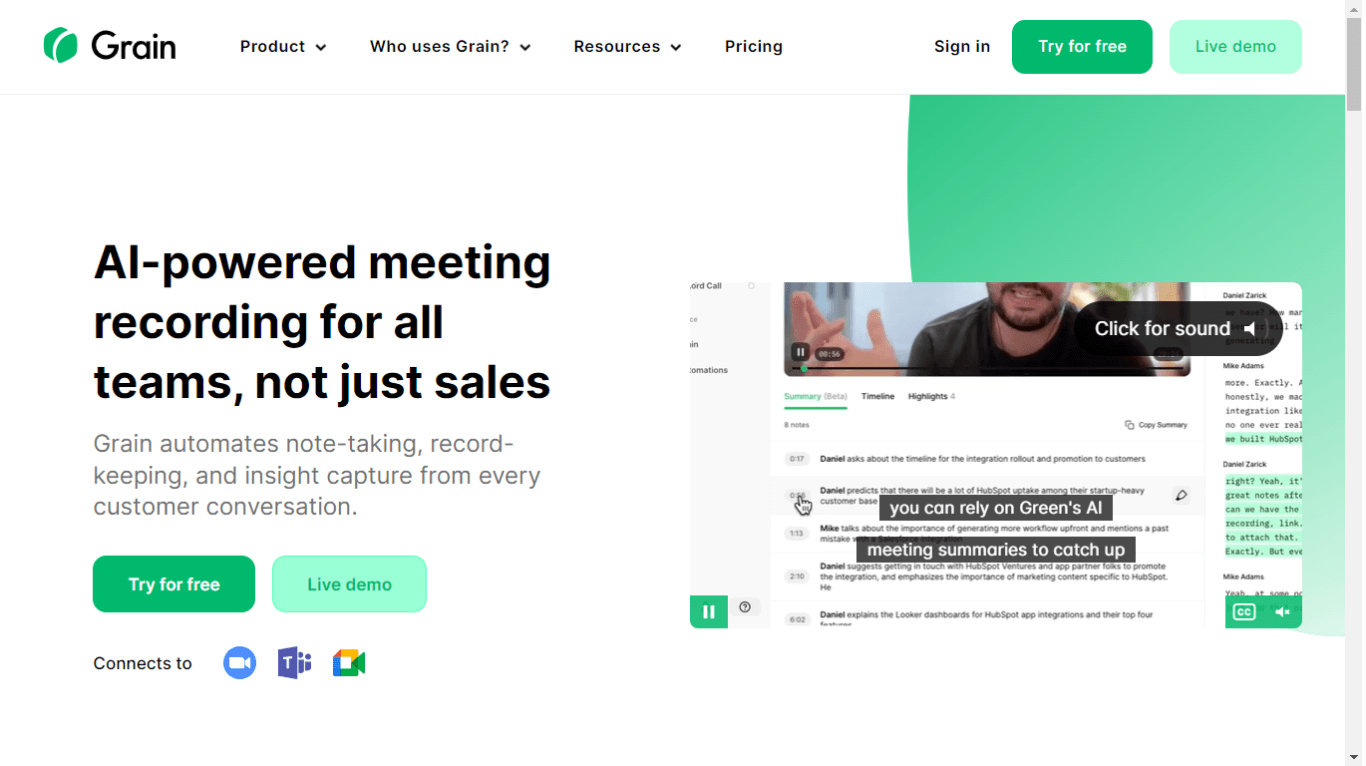 Grain is another Fireflies.ai alternative with an incredible feature — highlight — that lets you create meeting clips with a few clicks. 
It's perfect for instances when you need to share any important segment (clip in Grain's language) with your team members. 
Just like Fireflies.ai's soundbites feature, Grain offers a much smoother and intuitive functionality. For example, you can create clips while you are on the call. 
Key Features 
Time-stamped notes: You can write down your thoughts and even invite team members for a seamless collaboration. This feature is particularly helpful for training new employees or sharing internal notes on customer calls. 

Decent AI summaries: With a few clicks, Grain allows you to create summaries of a particular segment — say, two paragraphs — and even share them with team members. 

Native integrations: Grain integrates well with Salesforce, Notion, Slack, and more to effortlessly share notes or customer insights with anyone. 
Pros 
Grain transcribes the meetings with high accuracy (though not 100% accurate) and fast speed. 

It makes clipping audio and sharing keynotes easy. 

You can connect Grain with your calendar and set rules to record specific types of meetings. 
Cons 
The price of Grain can be slightly more expensive for some users. 

The free version lets you transcribe only 20 meetings. 

Integrations are available only in the expensive plan. 
Pricing  
Basic Plan: $0

Starter Plan: $19 per user per month 

Business Plan: $39 per user per month 

Enterprise Plan: Contact Sales 
#7 MeetGeek
Best for getting detailed meeting insights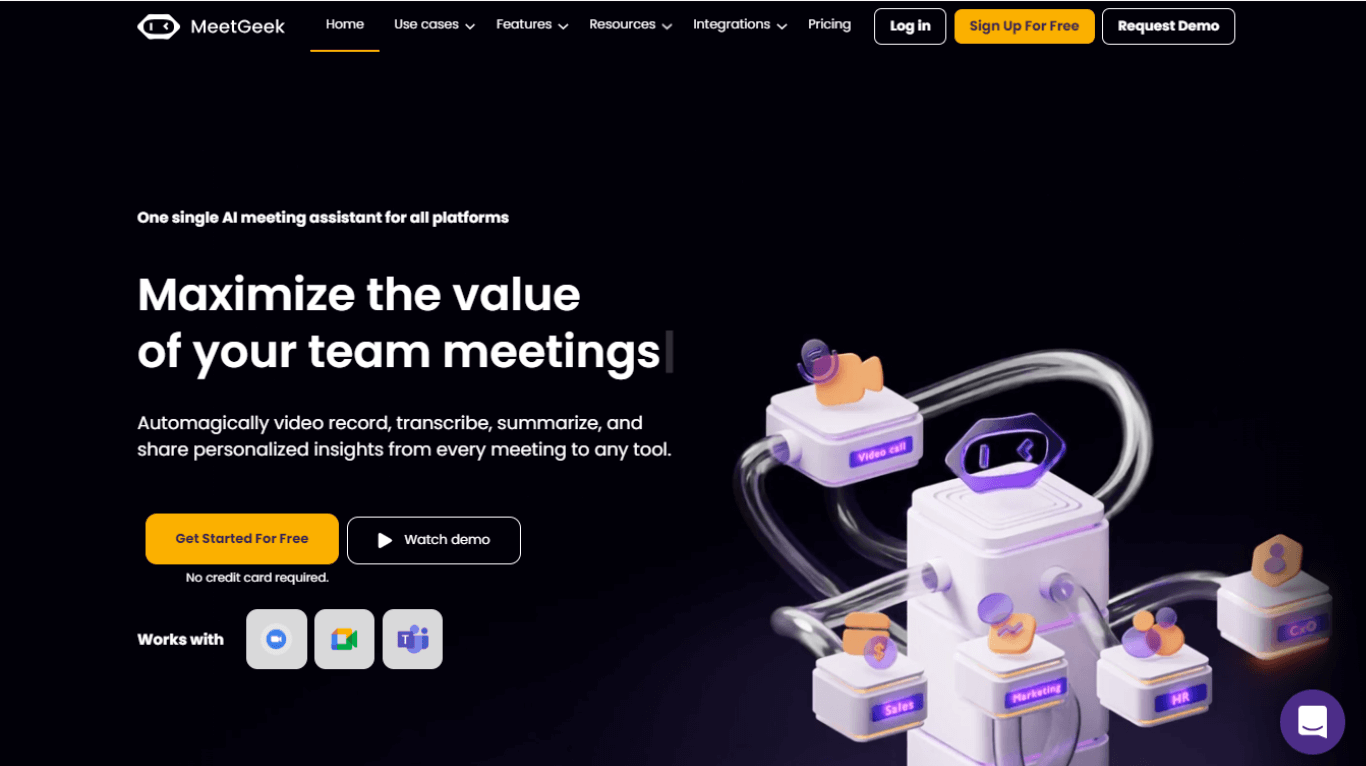 MeetGeek is another feature-rich Fireflies.ai alternative that gathers meeting insights, generates an AI summary, and helps you create shareable clips from the call. It analyzes meetings for punctuality, participant involvement, call sentiments, and 40 other KPIs. 
But the features of MeetGeek go beyond transcription — it lets you create KPIs on the Business plan with the help of meeting templates. Let's say you have a meeting template for your quarterly all-hands presentation on track; MeetGeek helps you create custom meeting insight KPIs for it. 
Key Features 
AI meeting minutes: With MeetGeek, you can create an AI-generated meeting summary that includes highlights and action items — so you can quickly follow up notes again. 

Shareable content: You can create and share meeting highlights from longer meetings to make the content accessible to all team members. 

Keyword search: The feature helps quickly recall any specific detail from the past meeting transcripts. 
Pros 
MeetGeek helps transcribe the meeting recording while also displaying KPI data. 

It stores all the important Zoom, Google Meet, and Microsoft Teams information in a single, searchable location. 

It seamlessly integrates with Trello, Slack, and Notion, so you can easily share the meeting takeaways with your team. 
Cons 
You cannot create a personalized KPI based on your meeting goals. 

It might not be ideal for someone looking for a basic transcription tool. 

The transcription is not always accurate. 
Pricing 
Basic Plan: Free 

Pro Plan: $19 per user per month 

Business Plan: $39 per user per month 

Enterprise Plan: $59 per user per month 
#8 tl;dv
Best for live bookmarking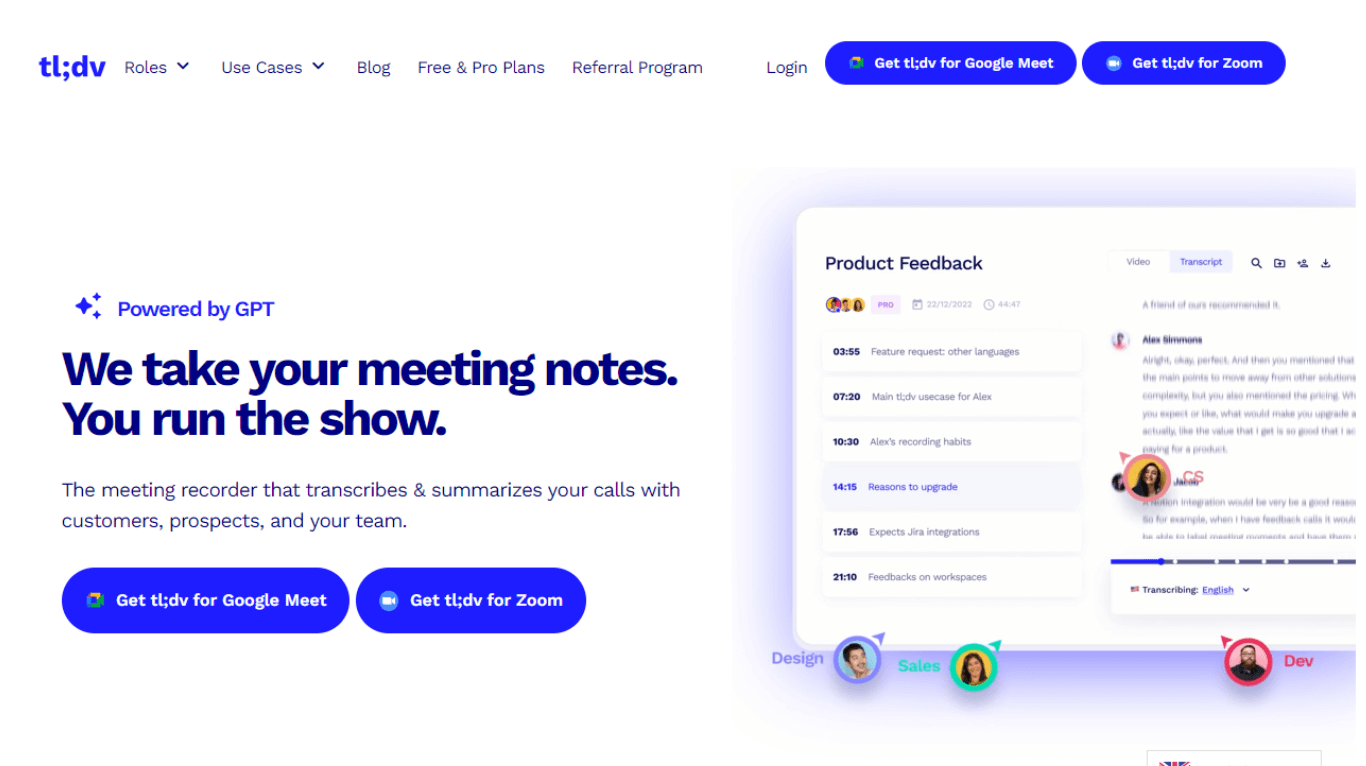 If you schedule long meetings (like me) often, you understand how hard it is to follow up on what was said and complete the tasks. But that's where the job of tl;dv starts. Its AI-powered search feature ensures the team can skip a few episodes but still understand the full picture. 
To get started, you need to write a search term and tl;dv will run a quick rundown through the meetings and offer a breakdown of transcript excerpts that meet the query. If that, too, seems long, you can summarize the results in one paragraph.
However, one drawback of tl;dv is that it struggles while transcribing certain complex and technical discussions. You'll have to revisit the original content to grasp the content fully. 
Key Features 
Short clips: This amazing feature lets you create clips from longer meetings and share these bite-sized meeting insights with a click of a button. 

Ask AI: tl;dv's note-taker app instantly summarizes the topic. You can also add manual notes to the transcript along with the timestamps. 

Team collaboration: The AI transcription tool allows you to share the transcripts link with your team or send it to Slack, Salesforce, HubSpot, and more. 
Pros 
You can automatically transcribe meetings in more than 30+ languages like Spanish, English, Japanese, and more. 

It integrates well with Notion, Slack, Salesforce, Google Docs, and HubSpot. 

AI Meeting Note Taker instantly summarizes the topic, so you don't have to read the entire transcript. 
Cons 
It might be expensive for individuals and small teams. 

Limited to Google Meet and Zoom for recording virtual meetings. 

The transcription might include occasional errors. 
Pricing 
Free Forever Plan 

Pro Plan: $25 per user per month 

Enterprise Plan: Contact Sales
Best for conversation intelligence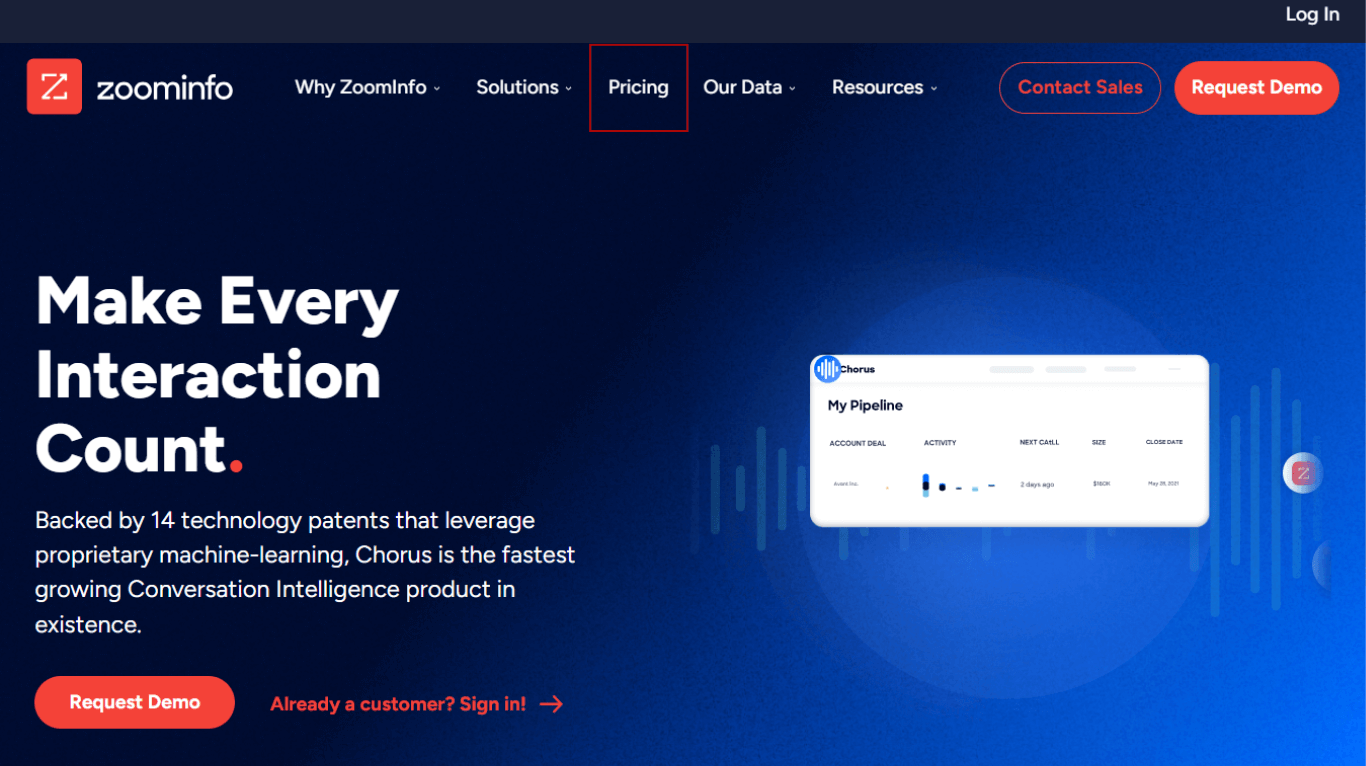 Chorus.ai is a powerful and popular conversation intelligence platform for creating actionable insights and call notes. It's designed to optimize sales performance and improve training with AI. 
It captures all the conversations in an organization, including phone calls, emails, and video calls, and examines the data to determine the likelihood of winning or losing your current deals.
Key Features 
Data-driven sales coaching: Chorus.ai uses data from recorded and analyzed calls to enable data-driven sales coaching. 

Team collaboration: The tool provides cross-team collaboration and in-depth product and customer feedback. 

Employee training: Chorus.ai lets the sales team review and share best practices or train the employees for improved service and productivity. 
Pros 
Chorus.ai captures and analyzes meetings, emails, and calls to deliver important information. 

You can create smaller snippets of calls to send follow-up emails to the meeting attendees. 

It integrates with MAT, CRM, ATS, and other Sales Acceleration tools. 
Cons 
Users can expect some inaccuracies during the transcription process. 

The user-friendly interface isn't the friendliest among all. 

The pricing information isn't available directly and is high. 
Pricing
Chorus does not openly reveal its pricing and has different pricing for varying plans: SalesOS, MarketingOS, and TalentOS.
You will need to contact them to get a quote.
#10 Fellow
Best For native integrations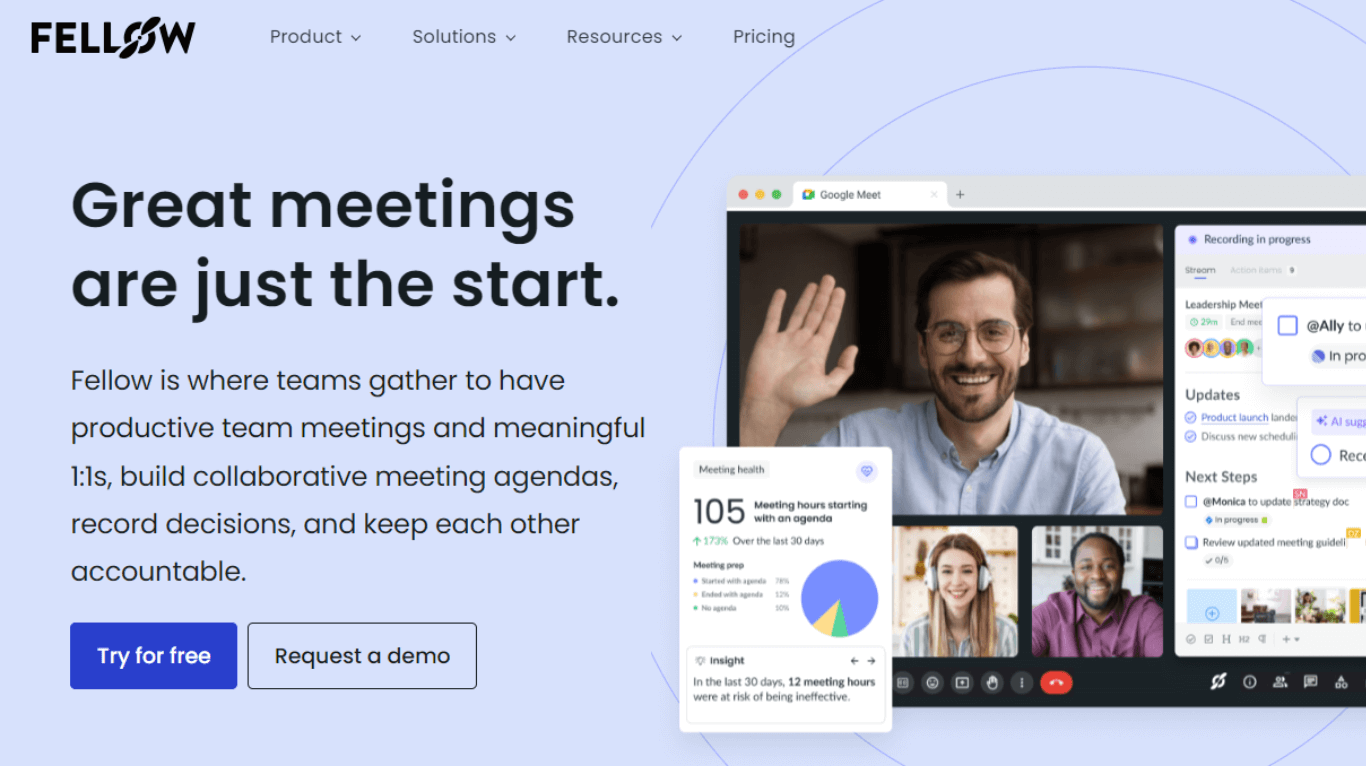 Fellow is like an AI productivity tool that organizes schedules and turns the meeting audio into action items and a set of talking points, which can then be added to a task list. The collaboration feature lets you assign tasks to the team members and see who is responsible for what tasks. 
There's an important thing about Fellow: It does not keep complete meeting transcripts and instead focuses on keeping overwhelmed at the minimum. If you need thorough call recordings, you'll have to look elsewhere. 
Key Features 
Native integrations: Fellow connects with multiple CRM platforms (like HubSpot and Salesforce), storage services (like Dropbox and iCloud), and video platforms (like Vimeo and YouTube). 

Productivity: The AI productivity tool cuts the transcript short to make it more manageable and accessible. 

In-meeting features: Fellow offers multiple features like meeting timer, carry forward, automatons, etc., to make meetings better. 
Pros 
Fellow lets you track all the information about any specific project or topic.

The ready-to-use meeting templates help the team save time and improve productivity. 

You can assign, organize, and prioritize action items in one place. 
Cons 
The desktop app is a bit buggy. 

There is a steep learning curve before you get familiar with the tool. 

It is not an ideal tool for saving complete meeting transcripts. 
Pricing 
Free Plan: $0

Pro Plan: $9 per user per month (minimum 5 users) 

Business Plan: $8 per user per month 
Alternatives to Fireflies.ai: At a Glance 
Now that I have explained the best Fireflies.ai competitors in detail, here's a brief rundown. 
| Product | Price Range | Top Features | Best For |
| --- | --- | --- | --- |
| Notta | One free plan and paid plans ranging from $13.99 to $59 per month. | Live transcription and AI summary. | Auto-join to transcribe meetings. |
| Fathom | $0 to $19 per user. | Supports multiple languages and meeting statistics. | Free AI meeting assistant. |
| Otter.ai | $0 to $40 per user per month. | Custom vocabulary and live transcription. | Taking voice notes and transcripts. |
| Avoma | $0 to $159 per user per month. | CRM integrations and competitive tracking tool. | Customer support and sales team. |
| Gong | Customizable | Market insights and real-time deal alerts. | Sales team to transcribe Zoom call transcription. |
| Grain | $0 to $39 per user per month. | Time-stamped notes and decent AI summaries. | Creating audio meeting clips. |
| MeetGeek | $0 to $59 per user per month. | AI meeting minutes and keyword search. | Detailed Meeting insights and KPIs. |
| tl;dv | $0 to $25 per user per month. | Short clips and team collaboration. | AI-powered search. |
| Chorus.ai | Flexible | Data-driven sales coaching. | Sales team |
| Fellow | $0 to $9 per user per month. | Meeting time and automation. | Native integrations. |
FAQs 
What is the Difference between Fireflies.ai and tl;dv? 
Both Fireflies.ai and tl;dv are great meeting assistants that do almost the same work — transcribing spoken words into text — but come with some differences. 
tl;dv, for example, offers a robust AI-powered search feature that lets you enter any search term and get a detailed breakdown of meeting and transcript experts that aligns with the query. 
Unlike tl;dv, Fireflies.ai is geared towards providing data-driven insights from meetings, talk-to-listen ratio, sentiment analysis, and talk time. 
How accurate is Fireflies.ai? 
Fireflies.ai's English transcription system is specially trained for conversations and meetings across various accents and industries. Per the Fireflies.ai official website, their AI meeting assistant has an accuracy of 90% for most types of meetings. 
Is there a free version of Fireflies.ai? 
Yes, Fireflies.ai offers a generous freemium model with limited transcription credits. Here are some of the features it offers: 
Record meetings conducted on Zoom, Google Meet, MS Teams, and other web conferencing platforms. 

Transcribe the audio in 69+ languages and generate automated summaries. 

Clip-out moments as soundbites and more. 
Which Fireflies.ai Alternative Should You Choose? 
Meetings have become an indispensable part of work life, but you cannot make the most out of it without the best AI transcription tools. But what's 'best' will vary depending on certain factors like budget, team size, features you want, and more. 
This ultimate Fireflies.ai alternative guide includes apps with all sorts of features and functionalities. Since most of the AI tools listed on this list are either free or have a free plan, you can take time to experiment and see which app suits your needs. 
If you are still confused about which transcription app to go for, try Notta meeting assistant. Its user-friendly interface and feature-rich free plan make it a great AI productivity app in the transcription space. 
Convert Audio to Text in Seconds
Notta frees up your mind and allows you to engage positively in meetings or online classes.